While back in town this weekend…at the top of the errand list on Friday was picking up the 2 weeks of held mail. In addition to the regular "boring" mail, magazines and catalogs I was pleased to see this stash of mail held several fun goodies!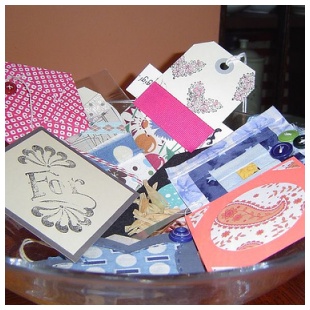 I had mentioned earlier that I was participating in Dacia Ray's Gift Tag Swap and this week I received my portion of the swap. More detailed pictures about each tag & artist are found on this Flickr set.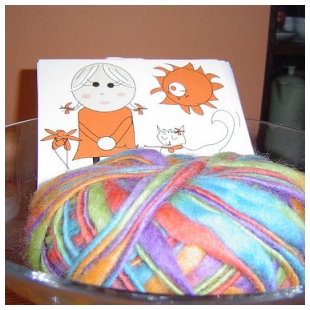 Several months ago I came across Tanya's blog & the fun postcards that she makes. With the latest postcards she also included a fun & colorful ball of yarn that was unexpected. Thanks Tanya! I'm not sure what I will make with the yarn but I think it may end up being for a kid in my life because the colors remind me of children's crayons.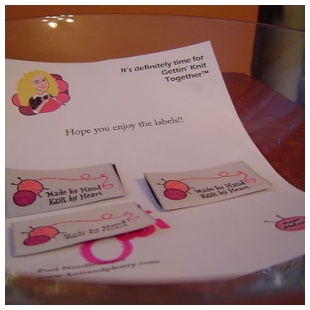 Purl Needlemeyer is another "new in 2006" blogger that I read – I think she was my first "Let's swap blog links" buddy. She has a fun "Getting Knit Together" kit and is continually expanding her goodies. A couple of weeks ago she offered up some fun "hand knit" labels for commenters. These are very fun – I don't know which projects they will be attached to but I will enjoy using them.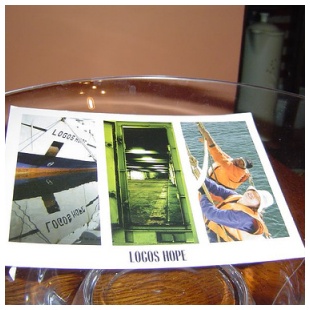 Kirsten recently went to Croatia to help ready the Logos Hope ship for ministry with Operation Mobilization. She sent along this postcard from the team that she was with. Prior to her trip there was a bit of knit blogger fundraising that I stumbled across & I was glad to help – we have several friends involved with OM so it was great to support another great part of their ministry.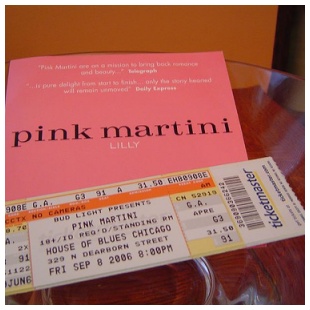 The final fun thing in the mail – my tickets to the Pink Martini show on Sept. 8th at the Chicago House of Blues.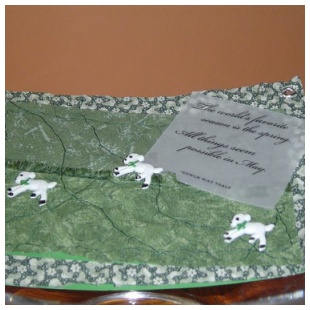 Belatedly posted…my Project Spectrum green postcard arrived from Amanda Cathleen several weeks ago & I didn't have a chance to snap it. The sheep were a very appropriate part of May since Amanda Cathleen was one of the multitudes that enjoyed Maryland Sheep and Wool.
Other mailbox fun this weekend…seeing The Lake House with a friend.  In the age of emails it was fun to see a story that evolved through letters in a mailbox. While the media reviews have been mixed to negative I thoroughly enjoyed this movie & was glad that I went to see it in the theater instead of waiting for the DVD.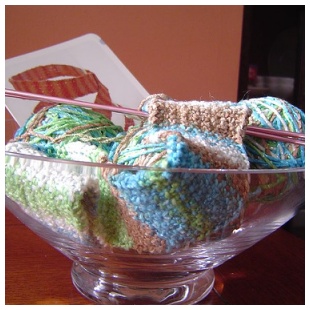 I did just a bit of knitting during the movie – the yarn that I picked up earlier this month during our lake weekend. I am making the Soft Weave (Linen Weave) Belt from the Knitting to Go set – although it will be a sash instead of a belt. This is a fast knit & is such a small project that is will be my travel project for this week.
In other knitting news this weekend I got started on my first pink scarf for The Think Pink Challenge, made some progress on my first felted bag, picked up the Knitting to Go kit & matched several of the project cards to yarn in my stash and finished up a couple of dishcloths to put into my "hostess gift" box to have on hand.