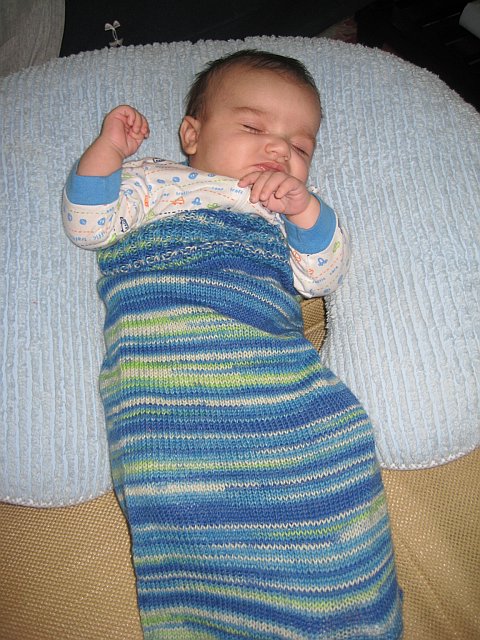 Once again, I am in a cycle of baby knits for friends.  In early February I cast on this project anticipating that it would be for a May baby; however, the recipient ended up being another cutie – baby Grady, a sweetheart of a little guy who made his debut on Valentine's Day. In March I had the opportunity to meet baby Grady as I dropped off a gift bag and some treats for his Mom & Dad. My Sunday afternoon was delightful as Grady snuggled onto my shoulder and snoozed as I listened to his parents share the story of how he came to join their family. I was definitely smitten with this little cutie and have offered to babysit whenever they need.
What a treat to check email this week and see pictures of Grady snug in his kicking sack – I never tire of receiving pictures of babes in/on the hand knits that I've made for them!
This was a great project to knit & I definitely plan for more of these bags to come off my needles this year – what a fun way to use sock yarn. The details are on Ravelry.
(By the way – lovin' the new "share" links on Ravelry that don't require signing up to access.)