Joining in with Kat & friends for another Unraveled Wednesday – sharing current knitting and reading…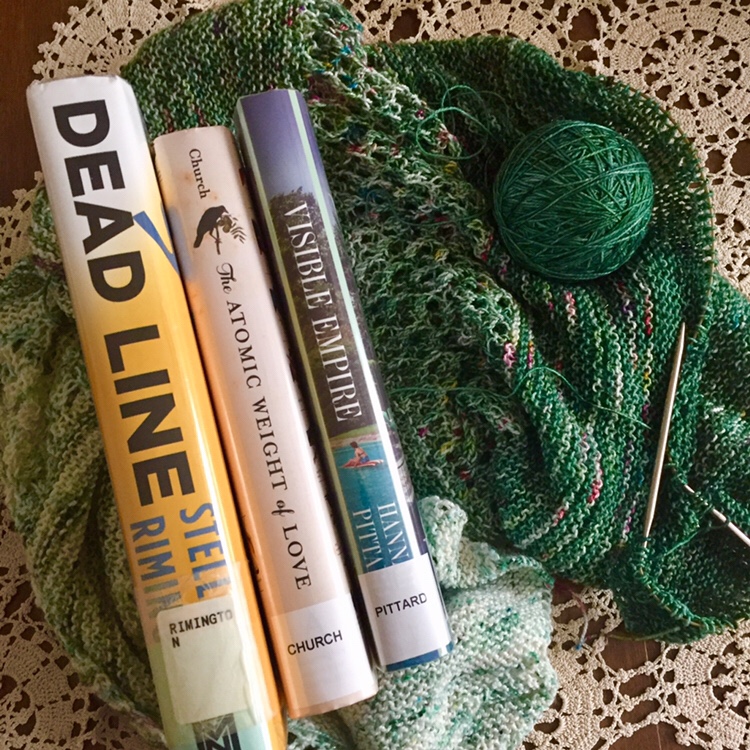 This week I've started into the final lace section of my Shades of Green shawl. While I started into this section with the correct number of stitches, I still managed to bungle the first row of lace pattern – unraveled back, reknit and still had issues. But, onward with the knitting! I ran out of color #2 midway through the final section that used it – so we'll see if I have  enough of color #3 for the full lace as written.
On the library reads front, I've just finished Dead Line – the fourth installment of the Liz Carlyle thriller series that I discovered in June. This continues to be a cup of tea that I'm enjoying working through as books are available. Over the weekend I was transported to Atlanta 1962 as I read Visible Empire, set in the aftermath of a true story – the Paris airplane crash that claimed the lives of 103 Atlanta arts patrons. Now I'm started into The Atomic Weight of Love  – not far enough into the book for any comments on it yet.
What is on your needles these days? What good reads are filling your time?