As the calendar rolled to 2018, it was time for me to do a January reset by starting another Whole30. This is my 5th time doing a Whole30…with each round, prepping and eating within the guidelines seems to get easier and easier.  As I'm at the halfway point of this round, I thought I'd share some of the my weekly food prep that is helping me find success in this January reset.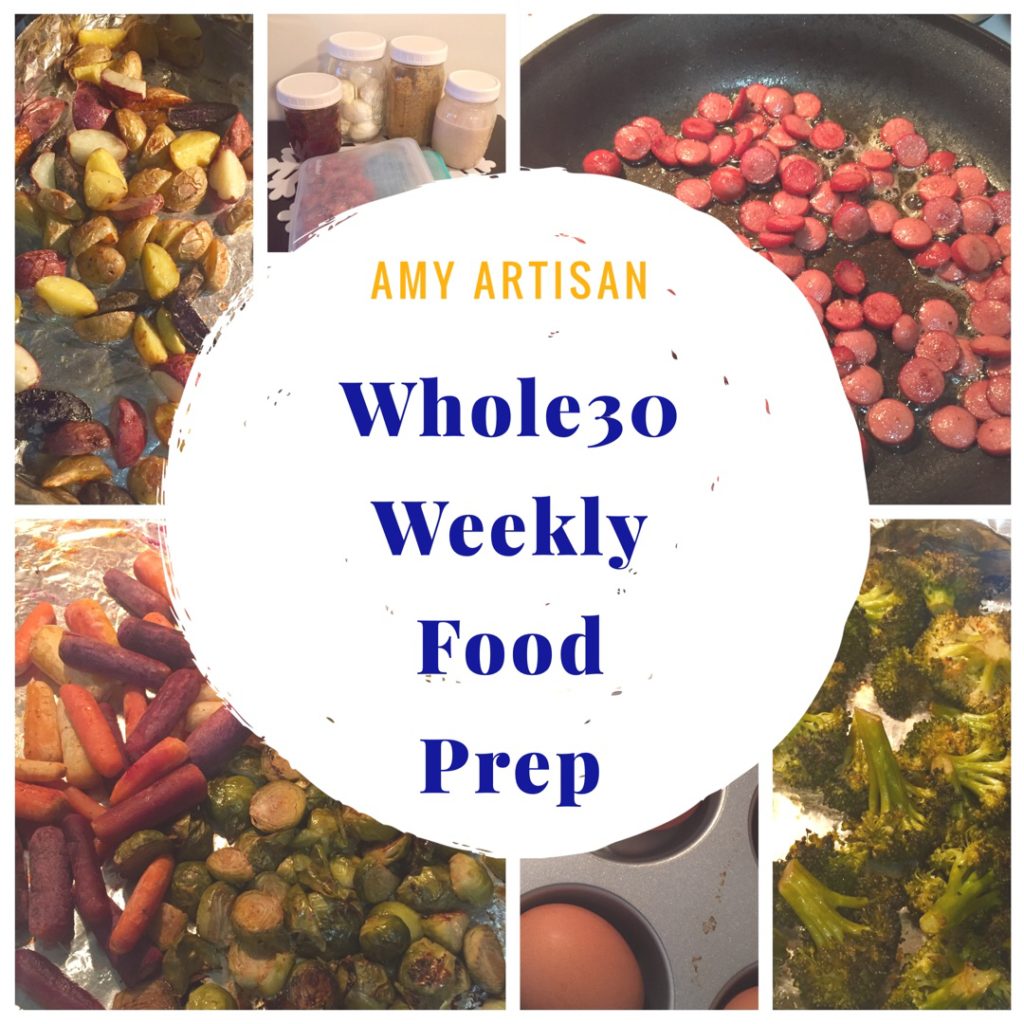 It's said that food prep is the key to success with a Whole30 and that is definitely true. Even when I'm not in a Whole30, I find the weeks where I spend some time with Sunday food prep and have some sort of meal plan for the week ahead just go better. So what are some of the things that I do to stock my fridge with ready to use components?
Compliant sausage & hot dogs – Sliced & cooked; Aidell's Chicken Apple Sausages & Applegate hot dogs are easy meats to always have on hand. I used to just cook them whole; but I now I like having the sizzle on more of the meat. And, having them already sliced makes them even easier to use as the week progresses.
Hard boiled eggs – I go with the oven method – in a muffin tin for 25-30 minutes @ 325. Peeled and in a mason jar ready to go. (Full disclosure, in a pinch I've bought these "ready made")
Roasted veggies – sometimes as part of a sheetpan supper, sometimes just veggies. I only minimally season them before roasting so they can easily be used in all sorts of dishes.
Homemade Mayo – light olive oil, an egg, a splash of vinegar, a bit of dry mustard, a pinch of salt – all in a mason jar & quick whirl of the immersion blender makes for a silky saucer – either plain or incorporated in other sauces & dressings. There are lots of recipes out there for this.
Marinated Beets – a packaged of the pre-cooked/peeled beets combined with a vinaigrette makes for nice addition to salads and more
Fruit & veggies washed and ready for use
With these components in the fridge, I make sure to keep a large container of spinach/power greens and also some eggs. To make a salad to take into work, all I have to do is fill a container with greens and then add several prepped goodies. Quick suppers (or weekend breakfasts) easily come together by adding some meat and veggie to the skillet and then topping with eggs (either a scramble or fried).
No matter your eating program, do you do any weekly food prep activity? 
Weekly food prep is just one part of food "readiness" for Whole 30 success, this week I'll be sharing more of my Whole30 "tricks" (go-to recipes, convenience foods, etc) that help me see a Whole30 not as daunting but as doable..
(No affiliate links – just personal recommendations)