Just in time for my "return" to AmyArtisan, Lolly has re-launched Project Spectrum to explore colors in the coming months. For May, the focus is RED. So, I will start this round of color exploration with a favorite red from the kitchen: Strawberry Pie.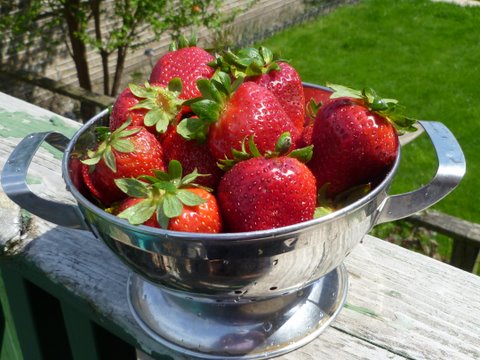 Strawberries have always been a favorite fruit and I'm most partial to California-grown berries. Of course, that probably has something to do with the fond memories of delicious strawberries coming out of Grandma's garden in Orange County. To me, strawberries are best when enjoyed simply. Beyond sliced berries with vanilla ice cream, my "go-to" strawberry desserts are on the easier side of the prep scale: Strawberry Ice, Strawberry Trifle and of course Strawberry Pie. Saturday's trip to my local fresh market yielded ripe California strawberries…so it was time to make a pie.
Crush 1 pint of strawberries.
Combine them in a saucepan with 1 c. sugar, 3 T cornstarch and 2 T lemon juice. Stir constantly until thickened and clear.
Cool the mixture.
Slice another pint (or more) of strawberries and fold into the cooled mixture.
Transfer to a graham cracker crust and chill until serving. (Excellent when served with whipped cream!)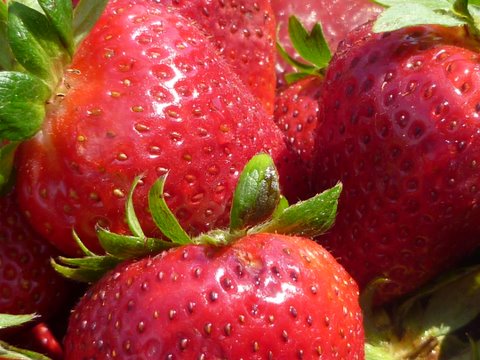 While I planned to take pictures of the finished result, it turned out a bit runny (um, I had just at 1 cup of sugar in the house & just barely 3 T of old cornstarch in the kitchen when I decided to do this…the Artisan kitchen needs restocked now that I'm back home…) – so, there was no "beautiful slice of pie on the plate" shot to be had. This pie is being eaten in bowls. Nonetheless, it still tastes delicious!