When I was younger, I remember brunches on the weekend being a special thing. Since moving to Chicago, a weekend brunch with friends is a pretty regular happening. Many great restaurants in the city have delicious menus with so many options – do you pick a savory item, a sweet item, go with the buffet line. Near my church there are so many tasty places to enjoy brunch. With so many choices, it's easy to take it for granted that brunch is a weekend meal option. When I was working in Chattanooga I remember asking co-workers for brunch suggestions when my parents would be visiting on a Sunday – the question "where to go for brunch" was met with head scratching & comments about there not being many brunch options. In the end, we enjoyed a delicious brunch while driving through the mountains.
As much as I enjoy going out for brunch, I find brunch to be a fun menu to prepare. My recipe books and recipe box are filled with many options – some are family favorites that I grew up with and some are new discoveries. This past Sunday was a chance to create a menu and share brunch with friends. (And also a chance to do some Project Spectrum III creativity with fire by cooking.)
For starters, a new variation of my winter favorite – Sunshine Salad. I peeled & segmented 2 oranges & 2 ruby red grapefruit. I dressed them in a spiced honey lemon sauce (equal parts honey & lemon juice, a dash of cinnamon, a dash of nutmeg, a dash of cardamon – stir over low heat till simmering). Right before serving, I topped the salad with pomegranate seeds for extra color and a bit of crunch. The other side dish was Chicken Sausage with Apples – when heating up a package of chicken breakfast sausage, I added a sliced apple to the skillet & a sprinkling of my Gateway to the North Maple Sugar seasoning from The Spice House.
The menu was completed with Blueberry French Toast Casserole. I came across the recipe several years ago & thought it sounded delicious. The first time I made it was for brunch after a breast cancer walk – I turned it on before I left for the walk & when we returned after the walk the house was filled with the delicious smell of french toast ready to eat. This time, I assembled it in the morning and then let the crock pot do it's job while I finished getting the house ready.
Blueberry French Toast Casserole – adapted  from The Everyday Low-Carb Slow-Cooker Cookbook

1 T butter

1/2 c. soft  cream cheese (from a tub)

8 slices of stale bread, crusts removed

1 1/2 c. wild blueberries

8 eggs, beaten

2 cups light cream

1 cup Splenda

pinch salt

2 t vanilla

3/4 t cinnamon

– Grease the crock pot with the butter & leave the excess in the crock

– Spread cream cheese onto one side of the bread slices. Place the bread, cream cheese side down, into the crock.

– Sprinkle the blueberries over the bread.

– Combine the remaining ingredients in a medium mixing bowl.

– Pour mixture over the bread and berries in the crock. The bread will start to float up. Gently press the bread down into the egg mixture. Let the mixture sit for 10 minutes and then press the bread down again.

– Cover and cook on low for 3 hours. The casserole will be "poofed" and slightly browned on the edges when done.

My extras & prep notes:

– I sprinkled a bit of Chicago Old Town Premium Spiced Sugar on top of the cream cheese.

– I toasted the bread in the toaster oven to make it stale.

– I didn't have light cream on hand so I used half heavy cream and half skim milk.

– I topped it all off with more cinnamon before putting the lid on the crock.

– I served this with lemon curd and maple syrup as possible toppers.

– Artisan Mom has baked this in the oven (assemble it in a baking dish the night before & refrigerate overnight; bake at 350 for about 45-50 minutes).
It was a gray and rainy day – which of course wasn't condusive for taking pictures of the meal. (And really, the blueberry french toast – while extremely tasty wasn't really being photogenic…) However, the warmth and flavor of the menu combined with the warmth of conversation and fellowship with friends was an excellent way to fight the winter dreariness.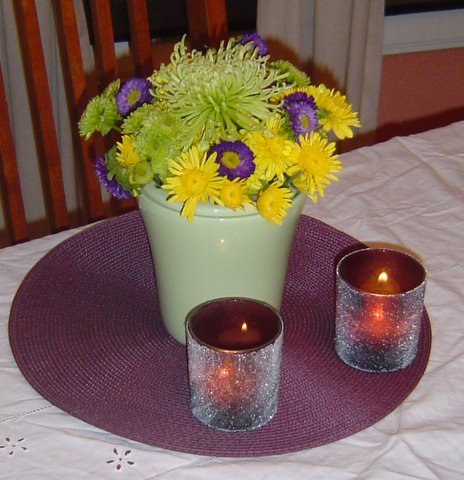 These flowers decorated the table for our meal and have added cheer to the house all week long.  
I associate brunch with a leisurely meal time – speed is not the object. It's a time to linger over the coffee when you have reached your fill of tasty treats. It is a time to slow down and enjoy…the time with family and friends and the food. What brunch memories do you have? What are your favorite brunch menu items?