My plan for Friday evening was simple – watch the Olympic Opening Ceremony and cast on for a new knitting project. Earlier this summer I started thinking about what my Olympic knitting project would be. As I mentioned during the Winter Knit Olympics, crafting has always been a part of Artisan Family Olympic Watching. For this Olympic crafting, I'm knitting another Capri shawl – more details about that in future posts. As I continue to jump around the alphabet for the ABC-along, I'll jump to an obvious O.
O is for OLYMPICS
I've had the opportunity to see the Olympic torch relay twice – for the 1984 Games while living in Lompoc, CA and the 1996 Games while living in Greenville, SC. In fact, when I saw the torch relay in SC, a local tv station interviewed me along the route because they were talking about the "once in a lifetime experience" & I mentioned that I was seeing a second relay.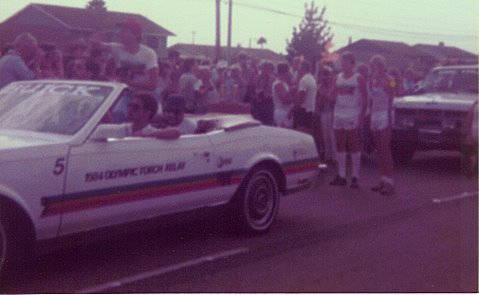 1984 Summer Olympic Games Torch Relay – Lompoc, CA
I have two key memories of watching the 1984 games on tv: 1) Our whole family became enthralled with the rowing competions and I remember us buying a rowing machine for at home. I've often thought that if I had ever gone to school where rowing was a sport I could have seen being a part of that team. 2) To this day, whenever I hear "Rhapsody in Blue" I think of the opening ceremonies and the site of 88 baby grand pianos playing that classic song.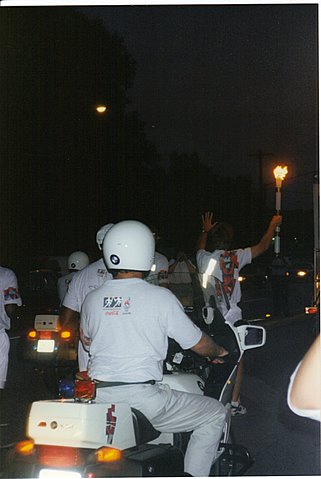 1996 Summer Olympic Games Torch Relay – Greenville, SC
I was in high school when Atlanta won the 1996 games. My senior year of high school, our marching band show included John Williams "Olympic Fanfare and Theme" which I have always enjoyed since it debuted at the '84 games. For Christmas one year in college, I gifted my college roommates with an inscribed brick at the Olympic Centennial Park and "made" bricks for each of us – I still use mine as a doorstop. By the time the games arrived in 1996 I had moved to SC and wasn't in Atlanta at all for the games. I don't have any "key" memories from watching these games – maybe because I was working full time then and the coverage wasn't quite as non-stop as it is these days. I do remember cringing when the shiny pickup trucks were on the field during the opening ceremony – really, was that the best we could do?
So far this year's Olympics have provided several memorable viewing moments – the 9 year old boy who rescued classmates from the aftermath of the earthquake definitely stole the show on Friday evening. Today at work everyone was a buzz talking about the 4 x 100m men's relay last night. I wonder what other memorable moments are yet to be made?
Chicago is in the running to be the host city in 2016 – I must admit I'm more excited at the prospect of Chicago hosting the games than I was of Atlanta hosting – maybe there will be another Olympic Torch Relay viewing in my future?