Springtime in Chicago is unique every year. Sometimes it comes early – sometimes it comes late – sometimes it seems like we go straight from winter to summer. With the winter that we've had this year, I'm not sure what it will be – although the sun and warmth that is creeping in this week gives me hope that spring may come this year. As I was starting to think about this entry, my page-a-day calendar had the following quotation that seems very appropriate:
No matter how long the winter, spring is sure to follow. – Guinean proverb
G is for Green

It appears that I have been choosing Green as my spring accessory color. A new scarf and a fun purse. I picked up this yarn last spring and loved the colors. I started hearing concerns about the ability to get a pair of socks from a skein & so I decided that it would be best to use the yarn for a non-sock pattern. While browsing through Ravelry I stumbled across this pattern and decided it would be a good choice for the yarn. The one row pattern made it simple de-stressing knitting early this winter. This scarf was the perfect weight for the spring weather in DC last weekend.
The Details: Pattern: Vine Stitch Scarf in Collinette Jitterbug (Toscana); size 5 needles; I cast on 28 stitches
The colorway is Toscana; however, as I look at it I am more reminded of a different destination: Taliesin in Spring Green, WI. The splashes of color against the green yarn remind me of the vibrant spots of color that the flowers in the garden provided to the lush green landscape of Frank Lloyd Wright's home.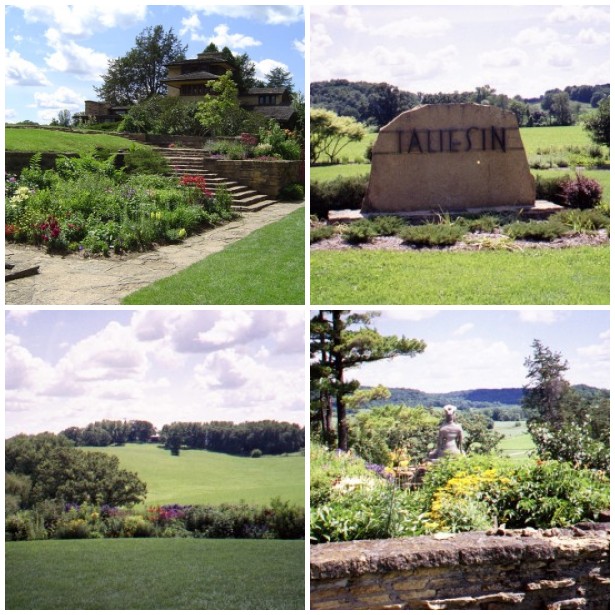 Green in my Garden – My flowerbed has been neglected the last couple of years; however, a few perenniels that managed to survive some hungry dogs in years past are making another appearance. This week I see that the sedum & bachelor buttons are starting to push through the dirt. The hostas have purple tips just starting to come through the dirt. While it's definitely too early to start buying & planting in the garden, it's not too early to start planning for it. Gardening catalogs have been arriving in the mail & it has been so fun to "ooh" & "aah" through them. I look forward to the coming weeks and months where I can "play in the dirt" in the evenings when I get home from work.
Green has always been a favorite color and I have always enjoyed using my green thumb to tend to plants and flowers. When Rich Mullins released his song The Color Green it became a favorite song. Since then, whenever I see a field of green I often find myself humming the chorus:
Be praised for all Your tenderness by these works of Your hands
Suns that rise and rains that fall to bless and bring to life Your land
Look down upon this winter wheat and be glad that You have made
Blue for the sky and the color green that fills these fields with praise

– from The Color Green by Rich Mullins