In keeping with the metaphor of life being a full plate, my plate has been rather full the last few weeks – I've mentally written many blog entries – hopefully they will make their way to the site in the next couple of weeks.
In the meantime, thanks to everyone who submitted your favorite comfort foods and associated stories – it was fun to read through each memory. Collectively you created quite a comfort food menu – with more than enough macaroni and cheese for everyone to enjoy a big serving!
The following gals will be receiving a copy of Comfort Food by Kate Jacobs:
Deborah – Poppyseed chicken! It's a yummy, not-very-good-for-you chicken casserole that my mom used to bring to church potluck suppers. It makes me think of my family and the church that I grew up in. I always serve it with sweet tea and southern style green beans on the side. It makes me feel like I'm back in small town Mississippi – life slows down and we can have a nice visit at the dinner table. Ooh, and my summer comfort food is lemon icebox pie. It's really easy to make, but I still only make it once or twice a summer. It's cool and refreshing, and reminds me of hot, humid summer days back home. Lemon icebox pie just looks pretty, too, and it makes me think of Southern women.
Casey – I love apple pie! My grandma made the best pie from scratch and whenever I was sick, she'd send my grandpa over with a pie for me! Some kids got popsicles, I got pies. I still love apple pie but I can't eat the frozen kind from the supermarket. Sometimes I get those but I'm always disappointed. It has to have the taste of homemade. My aunt's pies are second best only to my grandma's but she lives a state away. I guess I should start making them myself!
Kris – My comfort food is "Grammy's Bread" which is similar to babka. It is my paternal grandmother's recipe. Over the last couple of years, I have become the one in my family to carry on her tradition of baking it. It is my favorite comfort food because tasting it brings a flood of memories of my dear Grammy each time. The act of making it, though I never made it with Grammy, reminds me of my connections to my roots and brings more memories.
Cynthia – I do love tea; there is something comforting on a cold and rainy day about a good cuppa tea. I also love brown rice with a bit of oil and some frozen green peas (my husband and son would say green peas are my comfort food – they always seem to soothe my nausea) when I am feeling nauseated or under the weather, which happens a lot. My other favourite comfort food is popcorn. Not too much butter but just a big bowl of traditionally made on the stove popcorn. Love the crunch and the taste.
Marilyn – In all seasons, my favorite comfort food is homemade soup. It can be a very fancy recipe or just a "clean out the refrigerator" kind…doesn't matter…just warms me all over…body and soul.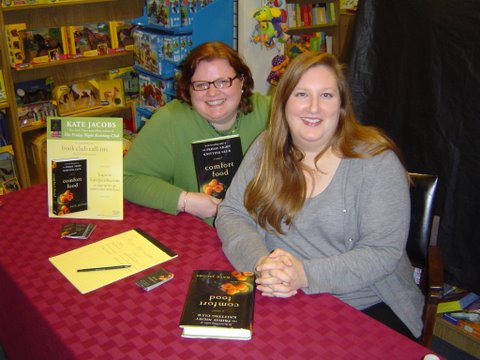 Earlier in May, Kate was in town for Comfort Food book events on two evenings. The first evening a portion of my bookclub joined me for the reading & signing – at that gathering it seemed like everyone came with at least one other member of their bookclub. After the event, Kate & I hung out in the bookstore cafe for a bit catching up on life. The second evening, I met up with a friend for dinner and then we joined in the event at an independent bookstore. Both evenings were filled with great questions and conversations.
In the last month I've been cooking a bit more (something that I enjoy doing) and now that I've got the grill in rotation again I'm having a lot of fun. In the next couple of months I hope to share some of my kitchen & grillin' adventures with you. In the meantime, I'll leave you with my plate from a few weeks ago – the first grill meal of the summer that was definitely a comfort food plate…