As the ABC-Along continues to progress, I continue to be a bit behind. (Actually, more than a bit behind.) However, looking on my back deck this evening when I came home from work I immediately knew what to post for a long overdue H entry.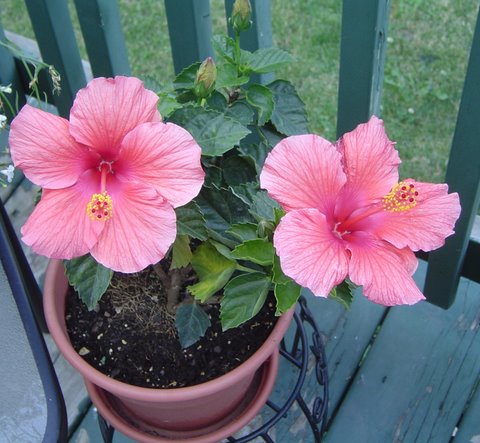 H is for Hibiscus
I have always loved the hibiscus flower. This picture is from my Grandma's house in California (30 years ago this spring) – among the blooms in her beautiful garden were hibiscus – in fact, this photo shoot might have been what started my love of this tropical flower. This picture frame is on my mantel today.
In 1997, a work trip to St. Croix USVI included many opportunities to see these beautiful flowers. In 1999, a fun family vacation to Bermuda was filled with many of these blooms.
Artisan Dad & I enjoy picking hibiscus for our potted gardens each year. As I was pulling together my garden for this summer (that will be another post…) I didn't feel like my garden was complete until I had picked up a hibiscus – the 2 blooms at the start of this post are the first blooms on my deck.
When I redecorated my bathroom here several years ago, the hibiscus was a guiding theme – a shower curtain of tropical postcards & hibiscus; hibiscus art from our Bermuda trip and a few other blooms to complete the theme. Even in the middle of dreary winters I can escape to the tropics.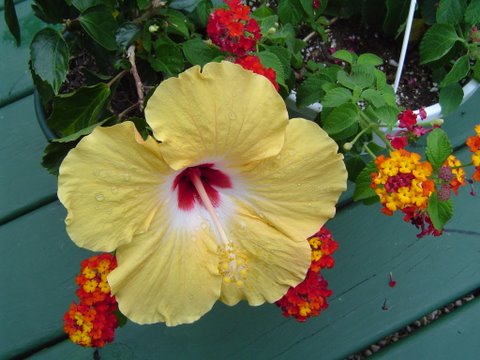 The hibiscus truly is a happy flower for me. When I see a bloom it brings a smile to my face – and happy memories come to mind. Hibiscus blooms can seem to be so fleeting; however, memories of hibiscus moments past can last forever.
While the blog has been a bit radio silent this month, I have been non-stop busy…hosting Miss Butterfly & Miss Doodlebug; the start of farmer's market season & having fun in the kitchen with my bag of produce each weekend; some knitting time – finishing projects, starting new, hosting a knitting circle; getting back into gardening after a few years away from my hands in the dirt; and more…more posts to come…