Have you ever thought about your life being a full plate? Family, friends, work, hobbies, travels, life experiences and more – all are arranged on your plate. Sometimes they are arranged in a way that is comforting and satisfying; other times they are arranged in ways that seem to be overflowing and not enjoyable.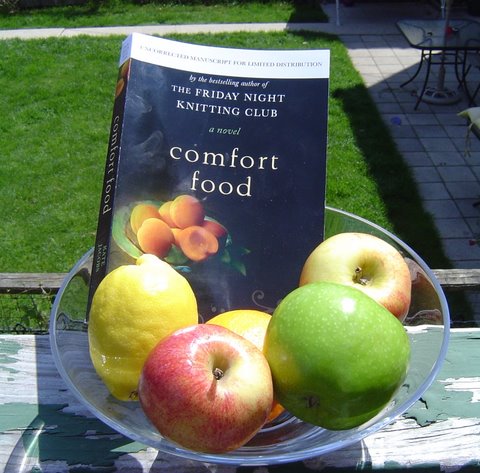 Earlier this spring I had the opportunity to read the advanced copy of Kate Jacob's newest book, Comfort Food. In Kate's first novel, she created a knitting shop and community that invited you to bring your knitting project and join them as they knit through all that life dealt. With Comfort Food, Kate brings you behind the scenes of the celebrity chef/food television world and lets you sample from a menu of tasty food, family drama, friendships and work relationships, and more.
The story centers on Augusta "Gus" Simpson – a celebrity chef and host of Cooking with Gusto! As she nears 50 she is faced with "a full plate" of change and turmoil. Where previously her life was plated in a way that each food didn't touch she is suddenly presented with "a full plate" where someone has taken a fork & swirled all the parts together. Throughout the course of several months, Gus navigates through the reality of being viewed as an aging network star who must compete with "the next new thing" in a younger, exotic chef; establishing adult based relationships with her 2 twentysomething daughters; discovering plans for the future are no longer stable.
As I curled up with the book and a mug of coffee, I was quickly pulled into world of Gus and her family and friends and felt as if I was invited into Gus's world whether at the breakfast table with her neighbor (who had a 'secret' past) or around the kitchen island where everyone was gathered for taping her show. When I finished the book on a Sunday evening I felt the story was very satisfying and left a pleasant taste in my mouth – much like a well seasoned meal.
The book is released this week and Kate begins a book tour to support it. Additionally, if you are interested, she will call into your book club to discuss Comfort Food or The Friday Night Knitting Club. In February, my book club (of non-knitters) had a delightful evening discussing FNKC with Kate; our May meeting will be hearing her read at a local book store and we look forward to having her discuss Comfort Food in the future.
Thanks to Kate's publisher, I have several copies of Comfort Food and some other treats to give away. Instead of giving them all away at once, I am going to have a few contests in the next couple of weeks. Let's get the first contest started…between now and May 21st leave a comment on this post with: 1) a favorite comfort food & 2) the reason/story behind why that food brings you comfort. I'll put all of the comments in a mixing bowl & select 5 to receive a copy of Comfort Food.
Comfort food comes in all flavors…Sometimes it's the fried egg sandwich that your Dad would make on Sunday evenings…Sometimes it's your Mom's chicken & rice salad that is a sign spring is here…Sometimes it's a frappe that reminds of you of travels with your sister & friends…Sometimes it is homemade egg custard when you are ill…What is your comfort food?