Joining in with Kat & friends for my first Unraveled Wednesday! This is a weekly opportunity to quickly share current knitting and reading.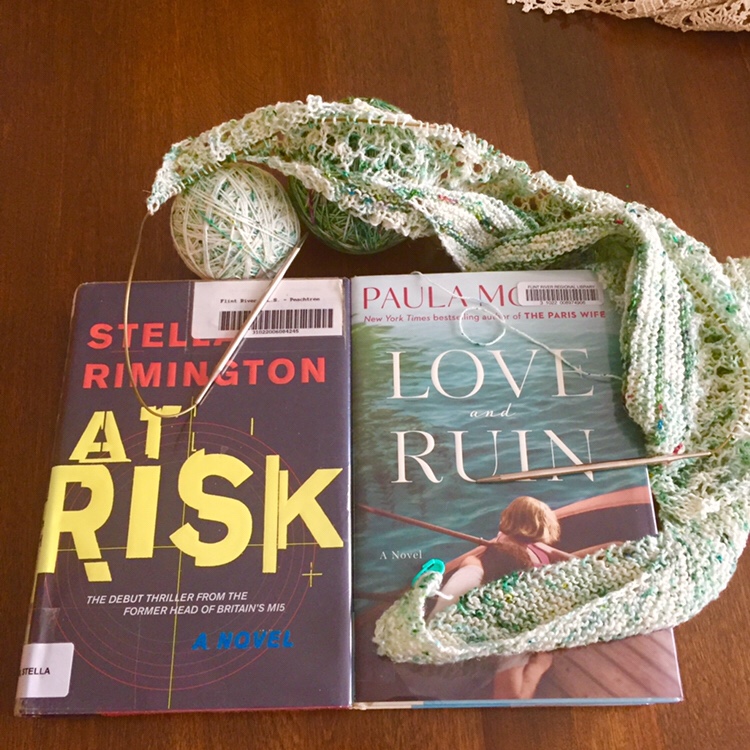 I have started a Shades of Green shawl – I know that I have some issues in the 2nd lace section but I'm choosing to just move forward – I've decided that as long as I'm at the right stitch count at each section transition it will all work out. Also, I need to put some simple knitting on needles for when I'm watching a show or movie that requires me to be more engaged than lace may allow. The pattern is Washed Out by Joji Locattelli in shades of Winter Wonderland, O Christmas Tree & Tannenbaum in Twisty Toes Glimmer fingering by WIPyarns. This is my first time knitting with this yarn and with this pattern designer – and I'm enjoying both. Given this time of transition, I'm planning out some knitting projects for gifts & for me – there is no reason why yarn & needles shouldn't be crafting wearables these days!
I recently came across a new to me thriller series . This morning I just finished At Risk by Stella Rimington– the first in the Liz Carlyle series. As I said on Goodreads as I logged this: Not sure how this thriller series wasn't even on my radar. As a fan of the show MI-5/Spooks as well as Alias and several others in that vein, this series is definitely my cup of tea! This was a very clever story to introduce Liz Carlyle – a tale of both personal & ideological revenge coming to bear in a terrorist attack in the UK. A very detailed story – it was interesting to see how little, seemingly throwaway bits in early chapters built together to the full picture. I'm looking forward to working through this whole series.
Earlier this week I finished Love and Ruin by Paula McClain. This recent release returns to Hemingway's Women – this time, the focus is on Martha Gellhorn. Martha became his third wife and their stormy relationship plays out in the pages. But more than just "a Mrs. Hemingway" we see Gellhorn as a writer in her own right – someone who jumps overseas to be in the midst of the global turmoil unfolding; someone who struggles to find her voice in the stories she tells – both news reporting and fiction storytelling. As I finished this tale, I was definitely interested to learn more about Martha and appreciated the afternote that the author included in the book – and am also intrigued to track down some of her own works.
In a totally different vein, I'm also reading a few new Southern flavors cookbooks via NetGalley & definitely plan to make some recipes from them to blog about & review – Corncob & Leek Stock – Pecan Cheese Crisps – Zucchini Cornbread Bites – Vegetable Purloo and so many more tasty treats are on my list. As I've been reading through both cookbooks, I've been calling out numerous recipes to Mom as possible things for us to try – so many things seem to call out for the great farmers market produce we are getting these days.
What is on your needles these days?
What are your recent good reads?