In this current season of transition, I'm finding lots of time to dive into books. As I look at my May list, it is too long to share in a single post – so I'll share thoughts on some of my NetGalley reads and books that had me moving along through several series.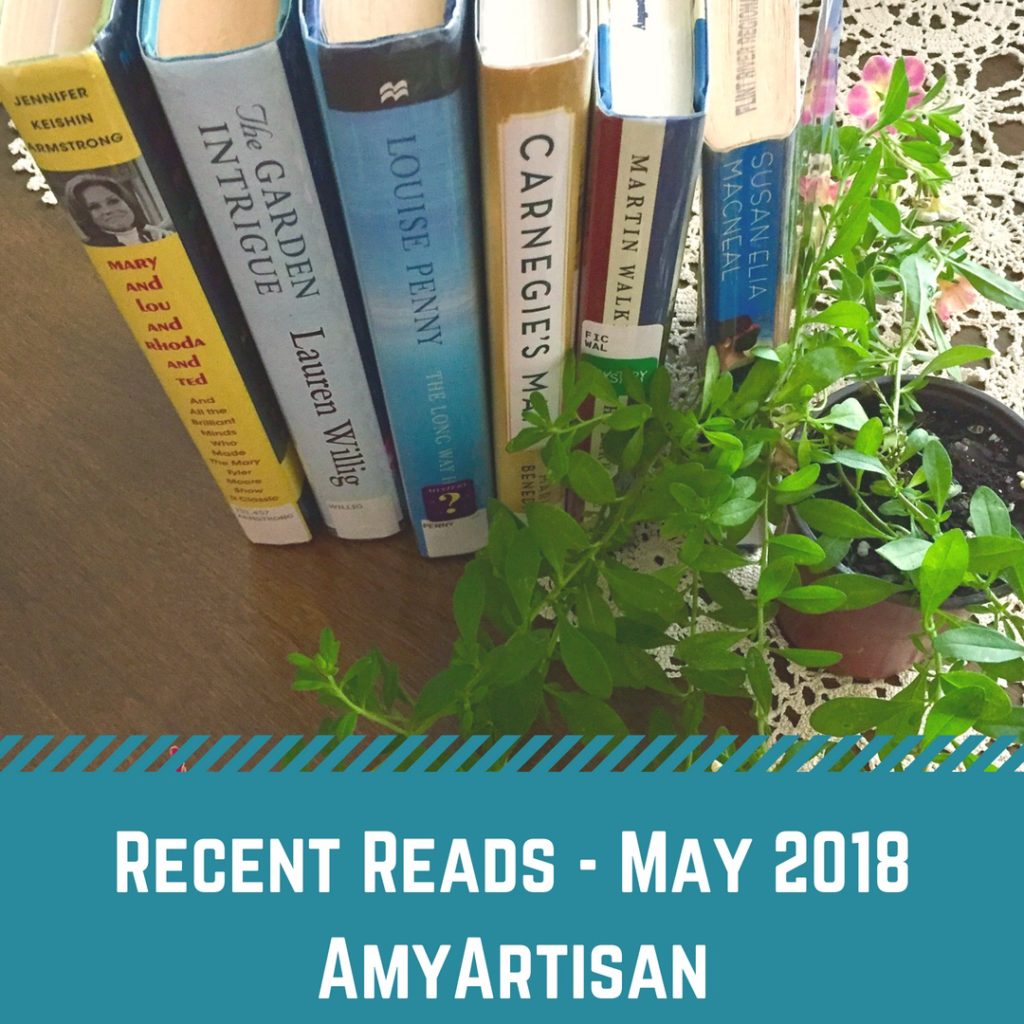 NetGalley Notes
In May, I read several ARCs courtesy of NetGalley and their respective publishers. I have some specific posts planned for some of the books (coming soon) – these are other advanced reads that filled my time.
Send Down the Rain by Charles Martin (*****) – The Charles Martin touch is at work again in this tale weaving together stories of family, sacrifice, PTSD, the Vietnam experience (and aftermath), illegal workers and so much more. As the stories of Jo-Jo, Allie, Catalina and others unfold and converge you are taken on a journey through pain into hope and inspiration and transformation. I received a complimentary copy of this book from Thomas Nelson through NetGalley. Opinions expressed in this review are my own. Book is available June 19th.
The Optimist's Guide to Letting Go by Amy E. Reichart (****) – With this literary meal, Amy E. Reichert dives into a multi-generational tale of mothers and daughters navigating life milestones that resonate with many people today – especially the "sandwich generation" that is focused on parental care and child care at the same time. A story wrapped in grilled cheese and brownies, Gina is navigating life as a recent-ish widow, oldest daughter and mother of a middle-schooler the best that she can with daily to-do lists. When her mother suffers a serious stroke, the stage is set for discovering her mother's "dark secret" that has shaped life for all of them for decades. At the same time, her distant daughter is discovering a budding relationship with a classmate as they play video games and watch Netflix in the basement. Once again telling the story in Milwaukee, this time the city of Milwaukee is not as much a character in the tale as Milwaukee and Door County have been in earlier works. All in all, a good read that reminds you how family decisions can ripple for decades and also how often times mothers and daughters are more alike than they want to admit. Free ARC from NetGalley in exchange for an honest review. Book is available May15th.
Kappy King and the Pickle Kaper by Amy Lillard (****) – A fun and breezy "whodunit" set in a charming Amish valley in Pennsylvania, "Kappy King and the Pickle Kaper" has Kappy and Edie on the trail to find the real reason a young Amish woman was killed when a car hit a horse and buggy on the main road. Descriptions of the people and locale reminded me of fun day trips to Lancaster County, PA. An enjoyable read that you can't help but smile about as you are reading. This is the second in the Kappy King series – but I didn't feel "at a lost" not yet having read the first book prior to this story. Free ARC from NetGalley in exchange for an honest review. Book is available June 26th.
Formerly Known as Food by Kristin Lawless (***) –  Formerly Known as Food is jam packed with information about our food production system, the impact of farming and other chemicals on our health, the "magic" of baby digestive systems developing and the lifelong impact they have and so much more. There are several paths of research and education in this book and while each was interesting, it seemed as though they weren't cohesively presented. Some could read this book and walk away with a sense of "we're doomed" because of the detail about how some chemicals and treatment exposures have multi-generational impacts and so we have already impacted our grandchildren and beyond with the chemicals in our lives. Others may walk away feeling like they want to get engaged by aren't sure what to do. The book can be filed on the book shelf with many other books that I've read about the state of food production and health today – and seems best suited for people that are reading across the spectrum of food/health books. Compared with other books of this vein, I felt like the author was more self focused in her narrative than some others. Free ARC from NetGalley in exchange for an honest review. Book is available June 19th.
Also in NetGalley,  three food books that I shared last week.
Serial Stories
I visited several novel series during May – some books were returning to old favorites and some were new discoveries that I'll work my way through as time allows…
I have a few other worthwhile fiction reads that I will share later this week.
What are you reading these days?
Joining in with Show Us Your Books hosted by Stephanie & Jana.