For today's Three on Thursday, three food related books that I read as advanced copies via NetGalley. Two cookbooks that have me tagging recipes to make and an ode to Chicago pizza that has me missing the tavern style pizza that I used to get from the local bar around the corner from my apartment. I have beets and apples in the fridge that will be turned into Yellow Beet & Apple Jam this week based on the first of these books.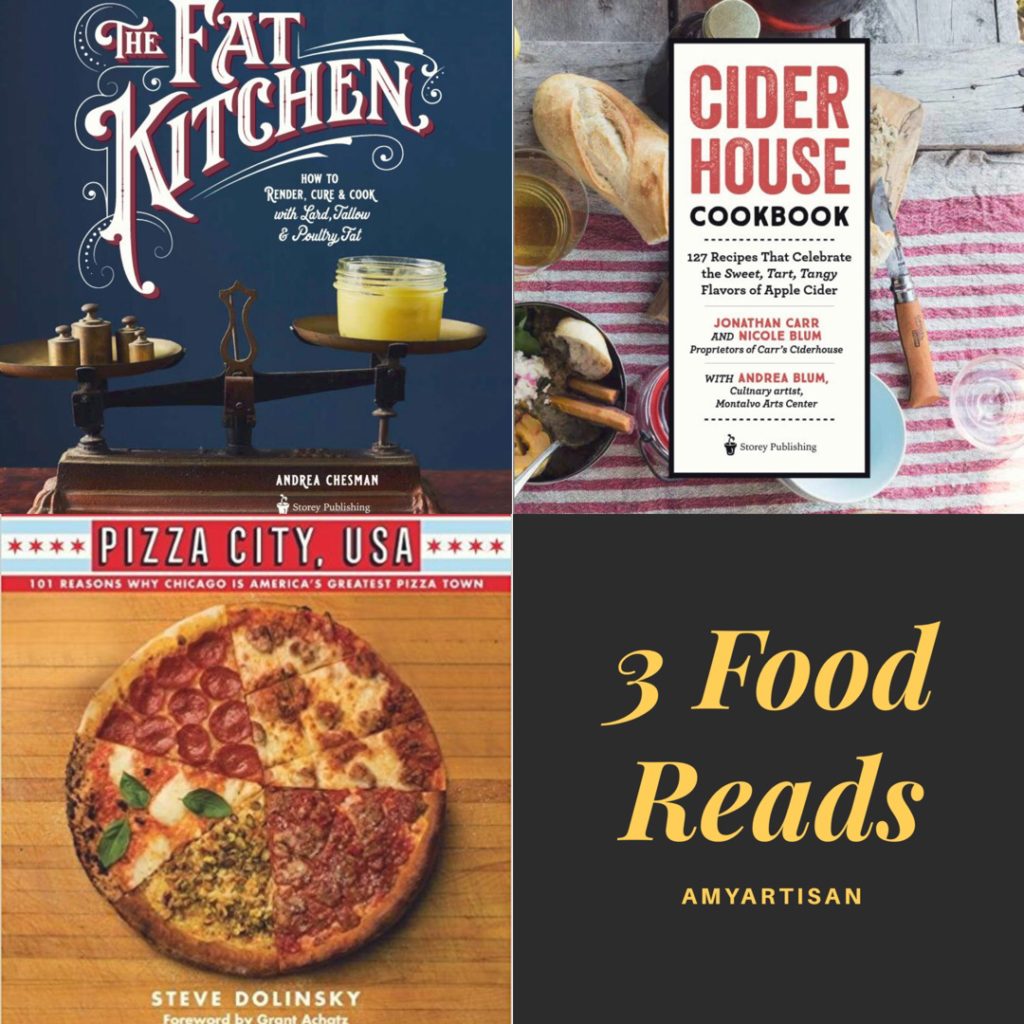 Ciderhouse Cookbook by Jonathan Carr, Nicole Blum, Andrea Blum – **** – Reading through Ciderhouse Cookbook is like stepping into the kitchen and sitting down around the table of the apple farmers that wrote the book. Starting with simple cider syrups and vinegars, the cookbook walks through a full menu of recipes that draw on apples and ciders to add that extra spark to the plate, bowl or glass. As I read through this cookbook, I was continually reading out titles and descriptions to my Mom & making a list of recipes to try – not only as apple season returns but also throughout the summer and the farmers market bounty. Free ARC from NetGalley in exchange for an honest review. Book is available July 24th.
Pizza City USA by Steve Dolinsky  – **** – A tasty treatise on the pizza that feeds Chicago. Outside of Chicago, most people assume that Chicago style pizza is the big deep dish pie. Those who have lived there know that is just one of many types and really isn't even the best option out there. As a former Chicago city resident, reading this book provided some fond memories of a couple of different pizzerias that were favorites while I was there. Beyond just reviews and pictures of pizzerias, Steve Dolinsky brings his journalism chops to the table and provides a history of pizza in the city and also a smart education on pizza basics. This book had me longing for a Windy City pie and also has me looking at pizza everywhere through a new and more knowledgeable lens. Free ARC from NetGalley in exchange for an honest review. Book is available September 15th. Bonus: The author has now started a Pizza Tour (https://pizzacityusa.com/) that allows you to sample some of the pies in the book – sounds like a great addition to Chicago tourist fun.
The Fat Kitchen by Andrea Chesman – **** – More than "just" a cookbook, "The Fat Kitchen" provides an in-depth guide to all manners of animal fat – offering instructions on how to render the fats into goodness that will add an extra level of deliciousness to your cooking and baking. The information and recipes in this book provide a great reference for taking the leap into using more animal fat within your kitchen. Free ARC from NetGalley in exchange for an honest review. Book is available November 13th.
Joining the Three on Thursday link-up hosted by Carole.