Recently I had the opportunity to meet Baby Luke, the late July arrival that had me diving into my dishcloth cotton. I dropped off a meal so his Mom didn't have to cook and also gifted a few baby knits. His Mom and Grandma (who was visiting from CA) are both knitters & immediately wanted to know the details about the projects. I've knit the bib a couple of other times; however, this was the first time that I knit up the burp cloth – it was a simple pattern that turned out great. I can see using the burp cloth pattern again in the future – maybe even as a kitchen towel.

Project Details – Baby Genius Burp Cloth in Swimming Pool & Baby Bib O' Love in Hot Blue; no modifications; glittery silver star button from my stash.
Since Baby Luke would have been swallowed by the bib (he's still a wee one) I thought I'd share some pictures of babes in Artisan Knits from this year.
Double Blessing Bonnets – This is a project that I never blogged about as I knit earlier this year. Earlier this winter a friend had adorable twin girls. I knew that I wanted a "classic" bonnet pattern & I found this one while browsing Ravelry. Since Jane had chosen sage & pink as the baby/nursery colors I thought it would be fun to use those colors to make complementary bonnets instead of matching bonnets. These were a quick knit – both were finished in a weekend. When I delivered a meal & the bonnets a few weeks later, Grace & Gwen immediately put them to use.
Project Details (x2) – Pattern: Feather & Fan Bonnet by Larissa Brown; Yarn: Debbie Bliss Baby Cashmerino in pale mint & pale green (less than 1 skein each); Hand dyed silk ribbon in the perfect shades of pink & sage from My Sisters Knits; Modifications: I knit the neck edging in the contrasting color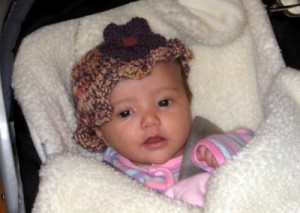 Corrie in Bloom –  I knit this hat quickly one evening in January because I wasn't going to be able to go to Deb's baby shower. In a "it's a small world" moment, a friend of Deb's "found" me on Ravelry because she saw my project out there & had seen the hat at the baby shower – neither of us knew the other was a knitter. Deb posted this picture of the hat in action several months ago – so fun to see the hat being worn instead of being modeled on a mixing bowl!
I'll wrap up this parade of babes in handknits with my buddy Sullivan wearing another Baby Bib O' Love. He was the recipient of an Artisan Baby Blanket last year.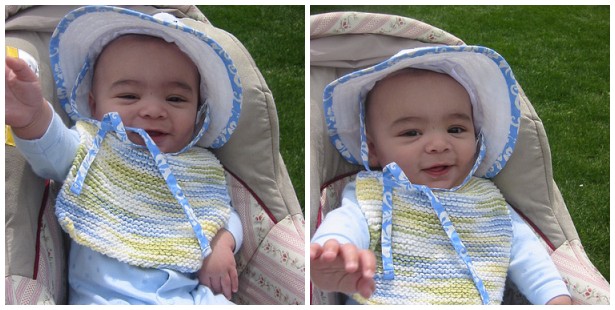 I enjoy knitting for new babes – seeing these cuties can't help but bring a smile around!