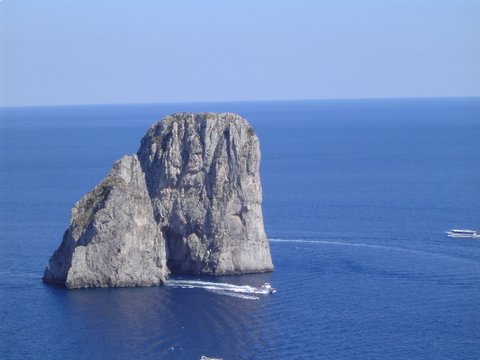 As a kid, the blue crayons in a Crayola box of 64 meant blue skies and blue waters in my drawings. One year ago this week was the start of the fabulous summer vacation to Italy  & Greece. As I look through the hundreds of pictures that we took in 8 days I am amazed at how much blue pops out of the pictures – skies and waters. As a Project Spectrum blue digital collage I've pulled together some of the bluest pictures from our trip. The blues in these pictures are the perfect backdrop for the great sites we saw – natural and manmade.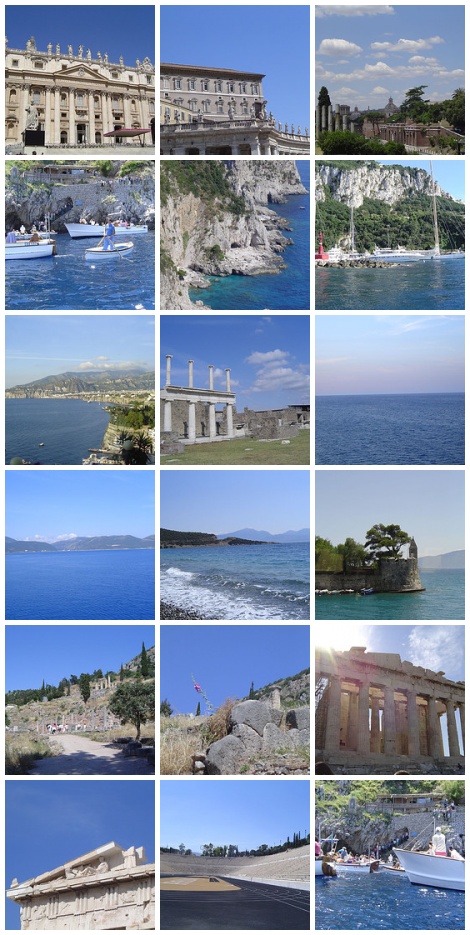 A few details about the pictures…
The picture at the top of this post is my favorite one from the trip – I Faraglioni off the coast of Capri. Since I returned from the trip it has almost continually been the wallpaper on my work laptop – with several different clients I've had to project presentations from my laptop in meetings & the picture never fails to start a conversation.
Other scenes from the trip: the Pope's apartment & St. Peter's Basilica in the Vatican City; looking across the Forum from the Coliseum in Rome; Lots of Capri – including waiting to go in the Blue Grotto; Sorrento; Pompeii ruins; views coming into Greece via ferry; along the coast of Greece; ancient Delphi; the Acropolis & original Olympic Stadium in Athens…