No…this isn't an early entry in the ABC-along; rather, when thinking of what to include in this post several "S" words bubbled to the top. So, here they are.
Summer Splash
– aka Mason Dixon Ballband Dishcloth #1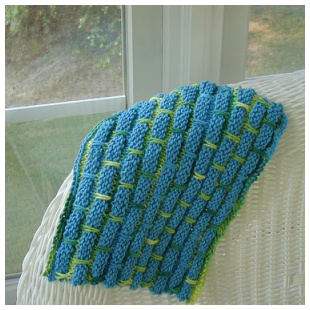 I've "finally" finished my first cloth from this fun book! I have to admit, I had a couple of false starts with the pattern (code for user error) but this was a fun knit to do. In fact, over the weekend I picked up 2 more color combos at Michael's so I would have something to work on in the hotel this week. (Poor late night packing last Sunday meant I didn't have room for much yarn in the suitcase.) Sugar'n Cream Yarn: Summer Splash & Hot Blue
Swaps
Before I knew that work would have me traveling this summer I signed up for several swaps. The great thing about being a part of a crafty/artistic family is that I was able to finish up my swap packages this weekend without being near all of my supplies. Monday afternoon I assembled the packages that needed to be sent to complete my participation in some assorted blog fun. I left Mom with a stack of packages to be mailed (thanks Mom!):
…My Knitting Vacation Swap package is en route to California. Once this package has arrived at it's intended location I will post a picture of the knitting project that was included.
…The Knitters Tea Swap package I pulled together is en route to the Northeast.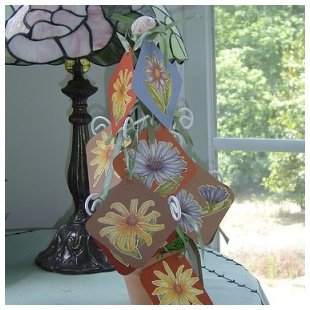 …Tags for the Gift Tag Swap. Dacia is hosting a gift tag swap where you make 10 gift tags & receive an assortment of 10 gift tags from the other participants. On Sunday evening I whipped up a batch of gift tags using paper from Mom, my sister's scrapbooking tools and some stickers I picked up at the local scrapbook store. I only wish I had made more for me to use.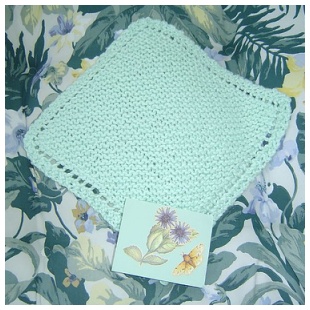 …My green square for Papa's Quilt is on it's way. Another softie using the Bernat Cotton Tots in mint green and the "grandma's favorite" pattern.
In addition to sending out swap packages I also received my first swap package over the weekend. Because the Vacation Knitting Swap was not a secret Judy asked where I wanted my package sent when she saw my travel schedule & sent my swap to my parents' house. What a fun package to open!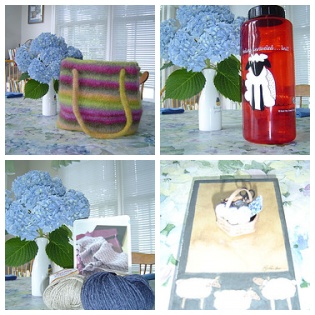 The first thing I saw was a lovely Booga Bag in great summer colors. I have seen this project on many blogs & thought it would be a fun one to have. It will definitely be used!; Next was a great water bottle: feeling unraveled…knit!; The cutest little knitting basket magnet; A fun notepad with sheep; A pattern for a broken rib scarf – I have yarn in mind for this project; 2 balls of Katia Papiro yarn – a cotton & linen blend that is perfect for summer.
Shawl
As I mentioned in my last post, my big secret knitting project in the last month was the shawl I made for Mom's birthday. The sun-filled breakfast room at home was a great place to capture the colors of the shawl.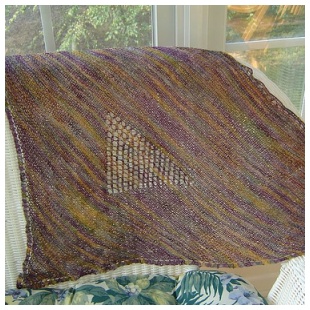 Details: Morehouse Farm Merino – Monet Variegated Merino Lace in the colorway Houses of Parliament; Pattern: Morehouse Capri Shawl; Customization: The open triangle in the center has 17 rows – Mom's birthday is May 17th. This was another delightful knit from Morehouse – I really enjoy working with this yarn. This colorway was so neat to see unfold, there are so many different colors in it.
Summertime
Other signs of summer over the Memorial Day weekend…A bit of shopping that included sandals & also a great summer fragrance that reminds me of the perfume I bought on Capri last summer…Lazy afternoon naps – every afternoon my cat, Maggie, had the right idea. This is her spot on the wicker love seat in the breakfast room. The look on her face says that life doesn't get much better than this.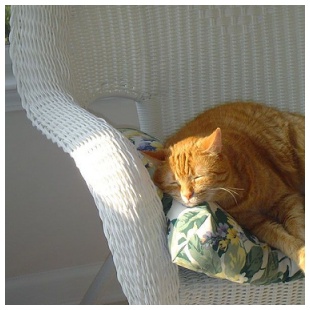 …Iced coffee – I taught my sister how to make the yummy iced Nescafe (Cafe Fria, Frappe, Freddo…) that we enjoyed frequently in Italy & Greece last summer. These are well enjoyed on hot summer days & sipping them in the states reminds us the trip…Watching the National Memorial Day Concert on PBS. One of these days we will be in the audience on the mall in Washington!