* Yellow & Orange @ Home
Before April slips away from us I thought I'd post some yellow & orange scenes from around my house.
The March colors of pink & red weren't too common in my house – I felt like I was really on a scavenger hunt to find things to put in the collage. This month was much easier. In fact, as I'm writing this entry I'm thinking of several other things that I forgot to capture & include.
The "biggest" orange thing in my home is also the hardest to capture. The walls in my entry, living room & dining room are a terra cotta color. When I was first looking at this apartment I asked the landlord "Now you'll repaint the walls before I move in" (because the color didn't go with the previous tenants decor so it looked horrible) – the response was "No, I like it." When I got back to my other apartment I started looking at my things & realized that they all would work perfectly with the colored walls. When people come to my place for the first time they are often amazed that I didn't have to buy any new things to make my stuff work with the terra cotta walls. The color on the walls give my space a cozy feeling & seem to pull everything together. (Sidenote: Several months after moving in I was scrapbooking & using the color wheel – I noticed that orange makes the 3rd to green & purple…as I have been creating my home style I had been picking a lot of sage & eggplant in my decor – so the terra cotta truly was a great fit for me.)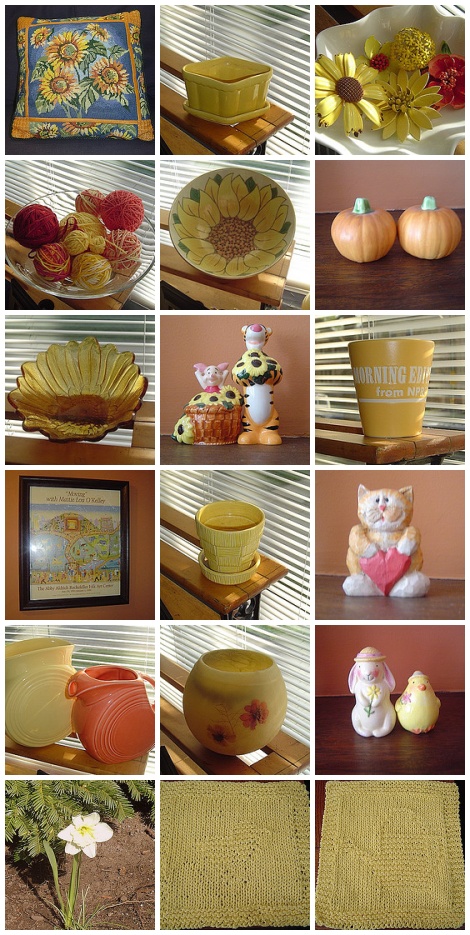 Looking at this mosaic of yellow & orange I find that several of my collections are represented in it:
– Sunflowers: Being a Kansas gal I've always enjoyed sunflowers, although just because something has a sunflower on it doesn't mean that I like it (a bit of a sunflower snob). The pillow is a needlepoint done by Artisan Dad.
– Salt & Pepper Shakers: I don't have a specific theme to my collection – some are vintage, some are new.
– Vintage Brooches: Such a fun way to accessorize & add a bit of color to any outfit!
– Cool pottery: Fiestaware (these are new pieces), a bit of McCoy, other cool vintage pieces – I really like California pottery.
That's all for April here at Amy Artisan – looking forward to being in the green in May!
Artisan Dad & Mom are flying in this evening – this weekend we road trip to Ohio for my aunt's birthday. See you next month…