…no foolin' – Saturday was just the day for a fun adventure for 2 sets of Kansas sisters!
My sister, Rebec, flew in from Atlanta on Saturday morning to spend a few days of her spring break (one of the "perks" of being a teacher) up here with me.
Once she arrived we stopped by Dunkin' Donuts to pick up iced coffees all around & then picked up Jen & Kristy for a day of fun on the road. It was a bit of a gray day but that didn't deter our fun.
Note: Because of the gray weather we didn't take any pictures of our stops, these pictures are from previous (sunny) visits.
We headed over to Harbor Country, MI – just about 90 minutes away from Chicago. This area is a favorite summer weekend escape for us but also is just the right distance for an easy day away from the city.

First stop was Round Barn Winery – a great local winery that we discovered last summer. We tried their just released Apricot Demi Sec (yum!) as well as some of our favorites & picked up some bottles to bring back with us. Courtney at the tasting room is a great help with understanding what you're tasting & recommending things to try.
Next stop was a Ben Franklin Store that looked frozen in time (although it has new inventory). Among the assorted purchases was Sugar 'n Cream yarn. Then we were off to the Red Arrow Roadhouse for a late lunch.
After lunch we finally arrived at the charming Sit & Knit – A Yarn Cafe. The woman working (Barbara?) remembered me from a previous visit. Lots of fun was had – 3 of 4 of us are knitters (& the 4th enjoyed receiving knitted goodies). On the sale porch I found some lovely Frog Tree Pima/Silk in black, terra cotta & a wedgewood blue (2 each) – this was truly a stash buy because I don't know what it will become but I loved the color combination. I also picked up 5 skeins of Cascade 220 in some brights for my iPod cover & assorted other "techy" bags. And I "finally" got my copy of Oneskein by Leigh Radford. As my Cascade was wound into yarn cakes we all enjoyed our complimentary lattes while looking through pattern books & dreaming of new projects. We agreed that this summer we will have to "Sit and Knit" at the store when we are back over there for the weekend. (Because we stayed at the yarn store for 'so long' we weren't able to get to the local scrapbook store on this trip.)
As we left Michigan we stopped in Michigan City, IN & cruised through Meijer – between the 4 of us we found a wide assortment of goodies – including board games, crafting tables, easter egg decorations, summer flip flops, sidewalk chalk & other craftiness. After arranging all of our purchases into the trunk of the car we went through the Culver's drive-thru to pick up frozen custard for the drive home.
We were all tired by the time we were back in the city but agreed that it had been a fun way to kick off spring & we look forward to our summer weekend escape!
Here are some of the highlights of the "haul" from this weekend – quite a bit of Project Spectrum in the mix!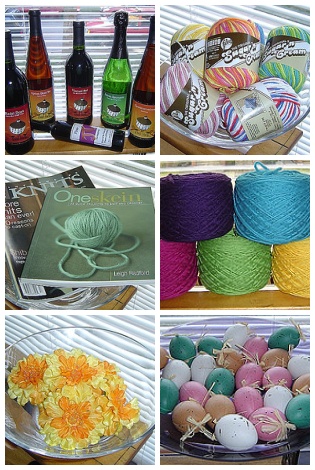 The yarn store purchases have already been put into use – my iPod cozy is knit & waiting for blocking & then stitching up the sides. I've also cast on for the "Felted Tote" from Oneskein. Stay tuned for finished object reveals in the coming days & weeks.