Easter Weekend!
I spent the weekend in Dallas with close friends who moved from Chicago last fall. They have 2 adorable daughters that will be known in this blog as "Miss Butterfly" (my adorable 34 mo. old goddaughter) & her little sister, "Miss Mouse." The weekend was a lovely blend of "on the go activities" & just hanging out at home – the perfect anecdote to a stressful week at work.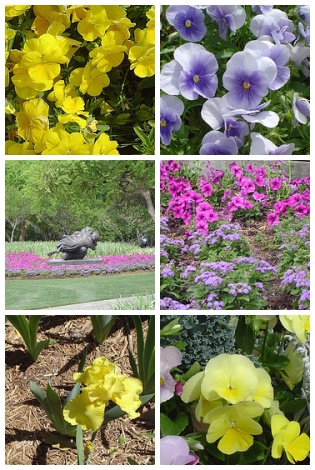 On Friday "the girls" ventured to the Dallas Arboretum to enjoy the beautiful flowers & take some pictures of the little girls. It was a lovely day to enjoy a picnic on the main lawn after taking pictures of the girls. (Notice the handknit, an Amy Artisan blanket, that the girls are sitting on.)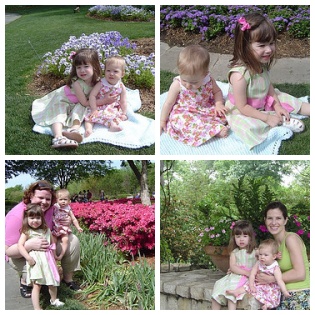 We were not the only ones with photo plans for the day – many families were there taking pictures & we saw at least 12 brides having portraits done & 2 girls taking quinceanera portraits – Miss Butterfly called each of them Cinderella. There was a piano player by the main lawn so Miss Butterfly had a fun time dancing & twirling to the music. As Miss Butterfly & I wandered around while Miss Mouse was being fed we managed to get a good self portrait of the two of us. (see below)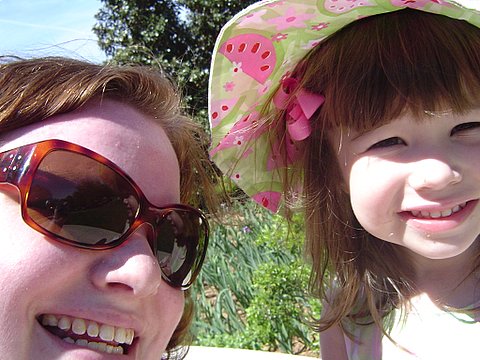 On Saturday after Miss Mouse's morning nap the girls headed to McKinney for a bit of shopping and lunch. With two girls in strollers we didn't wander through too many shops; however, we enjoyed a yummy lunch at Spoon's Cafe. We anticipate future visits to McKinney to visit more of the cute shops.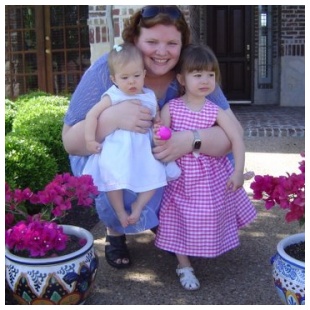 Sunday was a whirlwind day: Early service & pancake breakfast at church; opening Easter baskets; taking the requisite Easter pictures (above); Easter dinner with family & friends in Lewisville – 16 adults & 4 kids made for a fun afternoon. Even in the 90+ degree weather the Easter Egg hunt was a lot of fun – the adults had fun hiding the eggs & then watching the oldest 3 hunt for them. One dozen confetti eggs also added to the fun. As we left all the girls/ladies were given lovely spring mini-bouquets that included roses from the hostess' garden – I managed to get the bouquet home to Chicago without any damage. The flight home was a bit delayed – but that did nothing to lessen the fun weekend in the Big D.
In addition to these snapshot moments from the weekend there were so many other fun times with Miss Butterfly & Miss Mouse – the countless smiles from them both, storytimes, playtimes & just the joy that is both of them. And of course, catching up with Maya & Matt – including lovely dinners on the patio while enjoy yummy grill creations (tuna one night & pizza the next). While I don't have another trip booked yet I can't wait until the next time I see them all!
Etc…
Thanks to everyone for your leaving your Ramona (& Beverly Cleary) memories on my last blog entry. On Sunday's flight back to Chicago a little girl (about 8 years ago) in the row behind me was reading Ralph S. Mouse the entire time. I just had to smile at seeing BC in action.
I've mentioned previously that I enjoy knitting for others – baby blankets have been the most frequently gifted item in recent years. Last Thursday I had another "joy of knitting" experience in the form of a voice mail & phone conversation from my vice president at work. His daughter was the recipient of the grape & mint "Baby Maggie" blanket. Unknowingly I had made her blanket in her nursery colors so the blanket has been used from the start. Now that Maggie is starting to squirm more in the crib they had decided that this blanket is the perfect one to use because the "holes" in the knit mean that she can't suffocate in it. Mike & his wife have decided that this is a "perfect" baby blanket & I should open a side business to make & sell them. I had to chuckle at the "side business" – Mike said there was no way he would let go of me at my day job but he would help me market the side business. Of course I was flattered by the compliment but I told Mike what I've mentioned to others before – I enjoy knitting for others for the sheer pleasure of doing it & I wonder if it (or any of my other artistic endeavors) became a job would I still find the same joy in it? (And even with the occasional stressful weeks, I really do enjoy my day job.) What are your thoughts on knitting, crafting, art for pleasure vs. making those same activities your source of livelihood?
In addition to the yellow flower pics from the Dallas Arboretum, I have Project Spectrum blooms in my front yard now. Here is one of my daffodils.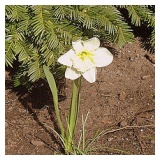 More knitting content in coming days & weeks. I continue to make progress on the lap blanket for my Aunt (must finish by next weekend), I need to start start on some other projects that won't be discussed while in process, the felted tote needs to be picked up again & oh there are so many other projects that I want to tackle! Let's not even talk about all the scrapbooking that I need to do!