Happy 90th Birthday to Beverly Cleary today!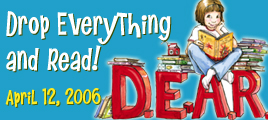 In addition to being her birthday, it is also National D.E.A.R. (Drop Everything and Read) Day – a celebration of reading inspired by the clever Ramona Quimby.
How many of you read the Ramona books while growing up? They were a favorite of mine. Who can forget Ramona's signature with the cat formed out of the Q in Quimby? I also remember the fruit fly experiments in the classroom.
I hadn't thought much about these books in recent years. Recently there was an article in Newsweek about Beverly Cleary and it has me wanting to reread these favorite books from childhood.
What were your favorite Ramona memories?
Update: Listen to an interview with Beverly Cleary on NPR this week, here.