(Or Dateline Chattanooga #2)
To say that the last couple of days have been a whirlwind of travel would be a bit of an understatement.
Flying back from Chattanooga last Wed. was not without 'excitement' -Â spring weather in Chicago meant that our flight was delayed 3+ hours. And the Chattanooga airport does not have much to distract you with if you are delayed. Towards the end we were able to use a broomstick to change the channel on one of the gate TVs & watch a bit of Alias before we finally got on the plane. While the delay was not fun, the flight to Chicago was a beautiful view – the clouds below us were so full of texture & details and the sunset above the clouds was a gorgeous mix of pinks, reds, oranges & almost purple – I wish I had taken a picture.
After a whirlwind of errands & book club on Thursday I was on an early flight to Kansas City on Friday morning. My parents drove up from Atlanta & we met up at the airport. We used to live in Overland Park, KS in the 80s so this was a bit of a "going home" weekend for us. We were in town to celebrate the wedding of a dear family friend (a sweet girl who I used to babysit a long time ago). Friday's lunch was an excellent meal of famous KC BBQ.
Friday evening was the wedding celebration. The ceremony was a beautiful, contemporary, elegant event filled with joy & the reception was a fun party!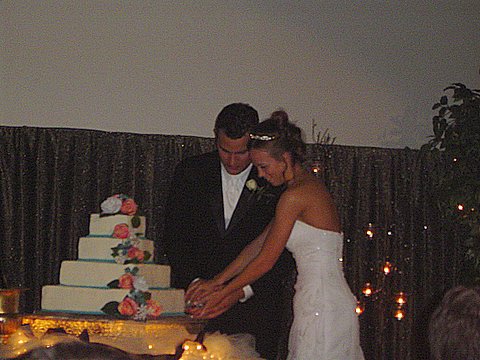 Congratulations Megan & Larry!!
The rest of the weekend was spent with the family of the bride (some of our dearest friends ever), other friends from when we used to live there and a fair bit of driving around & seeing how everything has changed since we moved away.
I got home last night just in time to finish packing my "work" suitcase & catch about 4 hours of sleep before flying to Atlanta this morning, picking up a rental car & heading into the office. To say I'm tired would be an understatement – I don't know if I'll be awake for the Alias finale tonight, but I'll definitely watch it with my Dad when I'm home this weekend.Â
One other highlight of the weekend was knitting related – I gave my Mom her birthday present (some of the secret knitting that has been alluded to in past posts) – a Morehouse Merino lace shawl in one of the Monet colorways. I realized last night that I don't have any pictures to share. Never fear, I'm spending the weekend with the family down in GA so next week I can share pictures of my latest project with you all.
And with that…good night!