This week I had my 2nd (of 2) Socks on 2 Circulars class at Arcadia. I haven't finished the sock & actually won't finish it to actual size. Why? Because this skein of Sassy Stripes is defective. Saturday morning while waiting at the car dealership I was knitting round & round. Then I came to this:

That's right…one strip of the yarn didn't get dyed. I decided that would be a good point to start the heel flap so that I would get to the heel turn in class. When I went into the shop on Sunday they gave me a replacement skein. I am going to finish this sock for practice & then it will be sent back to the yarn distributor. So far I'm enjoying this technique for socks & look forward to casting on with some of the lovely handpainted yarns I've picked up this year.
I haven't done a Project Spectrum Green scavenger hunt around the house yet – there will be plenty of items to capture for this – green is one of my favorite colors. Until then, here is a bit of green from the past weekend.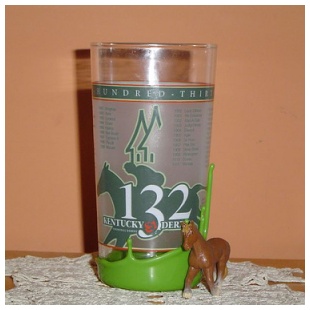 An official Kentucky Derby class from a friend's annual party. It was a fun afternoon of traditional Derbiness – including a true southern spread of goodies & 2 minutes of us all cheering on the horses we selected in the pool. Yeah Barbaro!
During our summer weekend in Michigan last year I picked up some tulip bulbs in Holland. I planted them in my backyard flowerbed last fall & hoped for the best – the upstairs dog has a penchant for digging up stuff in there & the tulips were no exception. Thankfully, a few bulbs managed to survive & I have been enjoying the blooms over the last 10 days. Here are the beautiful blooms.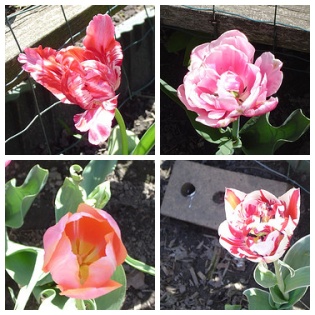 In the mail this week was a Happy God-Mother's Day package from Miss Butterfly & Miss Doodlebug (thanks to Mom for the rename idea for the little one). Inside, a Miss Butterfly original that is on my fridge, a paper "ripper" for making fun edges while scrapbooking & a great knit project tote.

The timing of this gift is great – starting next week I will be a road warrior for 8-10 weeks & so will need to be transporting projects – I think this will fit nicely in my suitcase & I will be sure to have plenty of craftiness with me. I will be in Chattanooga on an assignment – on the weekends when I don't fly back to Chicago I'll drive down to Atlanta to spend time with the family. Are any of you in Chattanooga? If so, drop me a line & maybe we can meet-up while I'm down there.