Coming to you courtesy of the wireless connection here at the hotel…
The weekend was a hubub of activity in preparation for being on the road. This week I'm in Chattanooga, I'll be back in Chicago for one day, then off to Kansas City for the weekend for a wedding, then back down South for 2 weeks. whew! I'm tired just thinking about it.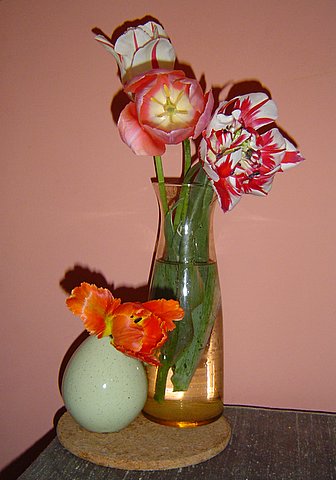 First thing Saturday morning I went out to the backyard & cut all my remaining tulips so that I could enjoy them inside for the weekend. All of these blooms were closed when I picked them – it was fun to see them open throughout the weekend. Â
My quarterly crop club was already scheduled to meet at my house on Saturday morning so we had a fun time working on our albums.
While running errands on Saturday I picked up several crafty items that will be used in the coming weeks. First up, Mason-Dixon Knitting and some Sugar'n Cream cotton to make the Ballband Dishcloth(s). While at Homegoods (you never know what you'll find) I happened upon Alterknits at a great price as well as a Stitch-It Kit from Sublime Stitching that was also at a nice price. On the reading front I picked up Yarn Harlot: The Secret Life of a Knitter and had to make sure I wasn't laughing out loud while reading on the puddle jumper flight last night – most likely I'll be finished with the book before the turning out the lights tonight.
Even though I'm only down here for 3 evenings (really only 2 because it was 11 by the time I checked in last night) I have a couple of small projects in the suitcase. One quick project is a green square for the Papa's Quilt project being coordinated by Jamie. If you have a moment, go check out this latest "knitters in action" opportunity.