As I mentioned previously, when I was home with the folks over Father's Day weekend we discovered a Mama Skink was nesting in our front flowerbed.

Late last week Mama Skink hatched her eggs & for a few short days there were baby skinks in the front. As you can see from some of the pictures below their tails were an electric blue.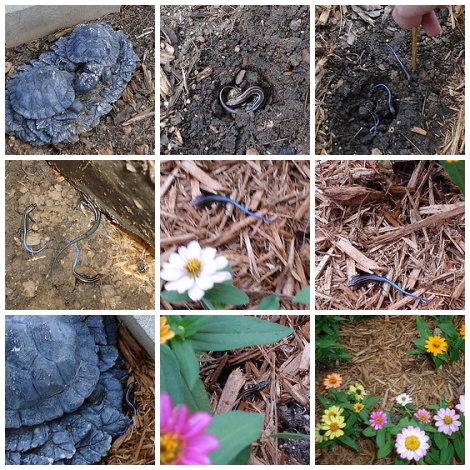 (Thanks Mom & Dad for capturing the pictures for this entry!)Â 
Mama & the babies have now left their nest in the front flowerbed & are out in the great big world. For a few days Mom & Dad enjoyed checking on the little nest. Just like Doris the dove that has nested above my back door for 3 years, I think that Mama Skink knew that the Artisan family would provide a safe place for nesting.
Mom & Dad have always shown us the simple pleasure in little things in our world – including these types of "nature encounters." Some day I will share the story of how turtles came to be one of my favorite animals…until then I will leave you with this hint:
How did the little turtle cross Ridgemont Dr. in 1989? With the help of Amy Artisan guiding the way & watching for traffic (with a bit of a nudge from Dad Artisan)…