…46 hours to be exact – that's the elapsed time between when the cab dropped me off on Friday evening & when the cab will pick me up on Sunday evening to head back to the airport.
When I got home on Friday I was pleasantly surprised to see that my Knitters Tea Swap package was waiting at my front door (instead of held with the rest of my mail). I quickly opened up the box & was thrilled with the goodies.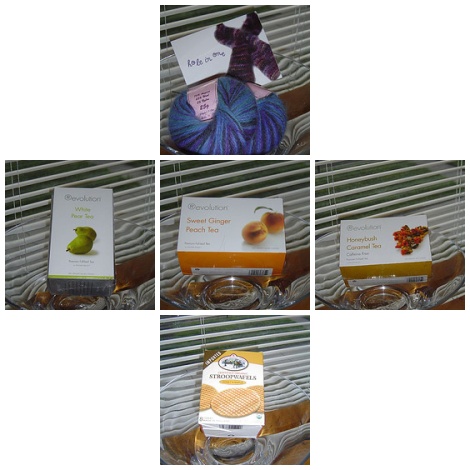 – 2 beautiful balls of Louisa Harding Kimona Angora that contain so many of my favorite colors – A box of Dutch Stroopwafel cookies – I'll have to do the traditional "way to eat" & warm one over a cup of hot tea. – 3 boxes of Revolution Tea: Decaf Honeybush Caramel; Sweet Ginger Peach & White Pear. This is one of my favorite brands of tea so it was a perfect selection. I had seen the Pear online but hadn't had a chance to pick up a box yet.
Thanks to Nancy in Arizona for a lovely box!
Travel Pocket
Now that Carrie has received her Knitting Vacation Swap box I can post the picture & details about the knit project I made for her. A travel pocket (or envelope clutch) – to hold a journal, pen, postcards, stamps, maps, travel brochures and any other paper while on the journey.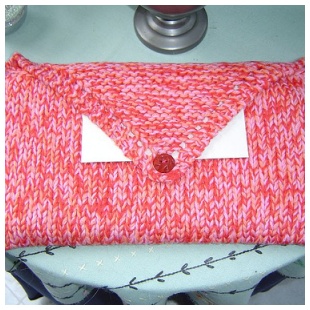 Yarn: Dalegarn Baby Ull in Pink (4504), Red (3718) & Orange (3507) all held together
Pattern: My own design. I knit half of a "Grandma's Favorite" dishcloth for the flap before switching to a stockinette rectangle. After steam blocking, the side seams were zig-zagged on the sewing machine & then overstitched in yarn. The button is a vintage one from Mom's button tin.
Also included in the swap package a set of custom "Vacation Swap" stitch markers from Katie's Pink Sheep shop. I've enjoyed all the cute sheep that Katie has made & when I emailed her about a custom order for this swap she said "no problem" & went to work. Unfortunately the sheep were intercepted somewhere in the mail. Katie quickly made a replacement set of sheep & mailed them to my parent's house so they could be included in the package. Thanks Katie for helping me out!
Dishcloth 414
– aka another Ballband…So named for the hotel room I was in this week where 90% of the knitting was done – notice the lovely ottoman pose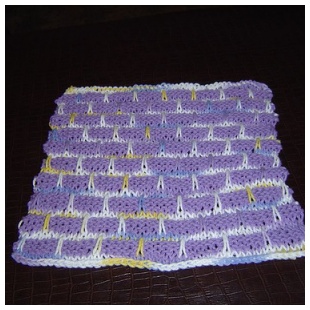 Sugar'n Cream yarn – Violet Veil Ombre & Hot Purple