Today was a glorious spring day where you think that Winter may actually end in Chicago. So what were the signs?
– Sun + Blue Skies + 69 = A Lovely Day!
– The chance for spring thunderstorms overnight
– Throngs of spring break tourists along Michigan Ave. (Including plenty of little girls toting "American Girl Place" bags as big as they are)
– The neighbor's crocus sporting purple flowers
– The appearance of sandals & linen capri pants on some fellow commuters (a bit early, in my opinion)
– Doris firmly ensconced on her nest above my back door (must snap pictures)
When I got home this evening I was able to do one of my favorite things about nice weather in my apt: open the stained glass windows above the mantel to get some fresh air flowing through the room.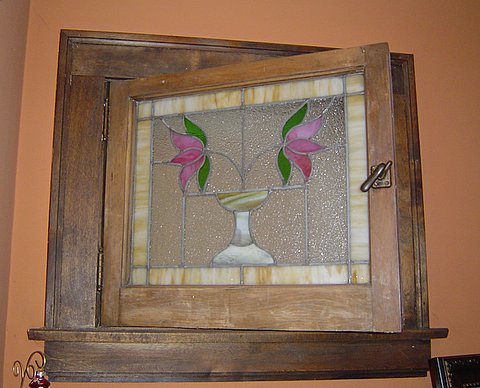 I guess this picture is a good Project Spectrum transition – the pink petals of the tulip in the window against my terra cotta walls.
My Project Spectrum postcard arrived from Rome this week & is awesome! Once Karla has received mine I will post pictures (she doesn't have a blog so I took pictures of the one I made as well).
My sister is coming in town this weekend for a couple of days – Saturday will include a road trip with friends that will include crafty acquisitions – what fun!