This morning I mailed this afghan square to Christine for her Comforting Jef project – the knit blog community has been sending in lots of squares a 2nd blanket will also be made for Vickie's brother Michael .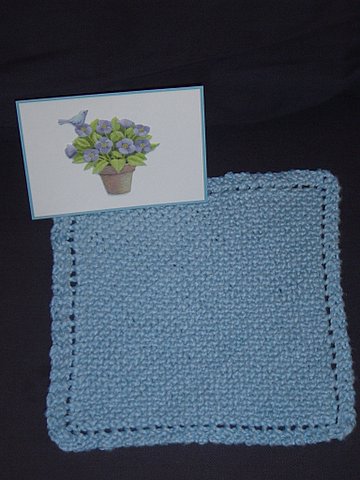 It's my "standard" pattern – the dishcloth that Grandma taught me to knit with & I have made into lots of baby blankets. This is the Blue Berry Cotton Tots yarn – I knit it on size 8 needles so it is a denser square than normal but still very soft & cozy. This was a great knit project on the flight home to GA on Thursday & I finished up while watching the new Pride & Prejudice DVD on Friday night with the family.
There were several other crafting encounters with the family while I was home over the weekend. First up, a "Reading Wrap/Lap Blanket" for my Aunt Clara Pearl who will turn 70 at the end of April & is recovering from some health issues. On Friday afternoon my parents & I strolled the yarn aisles of JoAnn ETC & selected the "Waterfalls" Homespun colorway.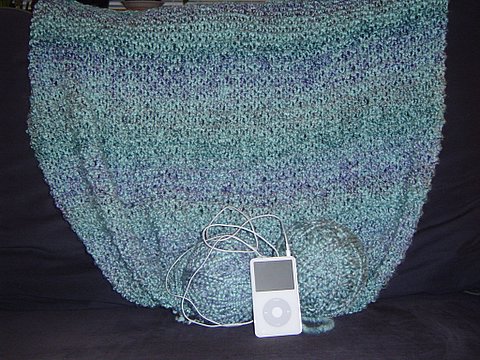 What's that in the picture…oh, an iPod! Have I mentioned that I have an awesome little sister? On Friday afternoon I received this lovely little "prezzie" & a great handmade card from her – she left me speechless. Rebec asked if it would make it into my blog – of course! The first listen on the iPod was Pink Martini (of course) & on Saturday afternoon as I cast on for the wrap I was listening to some knit podcasts that I had thought I would just listen to on my laptop (when I didn't own an iPod) – Pointy Sticks, Cast On, KnitCast. I plan to knit a case for the iPod – which Rebec has christened "Sally" – I haven't decided on the colors or yarn but Rebec has stipulated that it include a pink/raspberry stripe for her. Stay tuned for a finished object sometime soon.
In other crafting news from this weekend…
– My Project Spectrum Red & Pink Post Card is on its way to Italy.
– Kudos to my sister for finishing her first scrapbook – her trip to Scotland & England. It has been fun to see her develop her own style & the album was a treat to look through!
– Dad continues to make progress on his Poppy Needlepoint project.
– Many thanks to my Mom for whipping up this shoe bag for me while I was home. I decided I needed something better than a Jewel plastic bag for carrying my dress shoes back & forth from work. I came up with my design needs & Mom whipped it up in no time.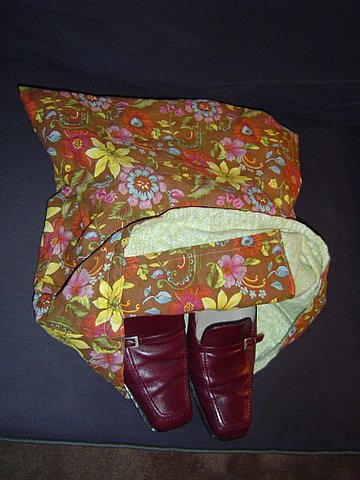 The design details: 1/2 yard of cotton (a Tracy Potter print), 1/2 yard of a flannel to line it, a drawstring. Inside are 3 pockets (aka my design needs): a small one at the bottom to hold a dryer sheet for freshness, one pocket to hold a spare pair of knee highs, one pocket to hold some bandaids for bad shoe days. (Since there isn't a lot of pink & red content in today's post my favorite red heeled loafers are modeling the bag.)
Spring blooms were in full force while I was home this weekend, unfortunately I didn't get pictures of Dad's garden taken before the rain moved in.
That's all for now…I'm hoping to get some more pink & red crafting in this weekend – if not the colors may run into next month…