…paper that is!
It was a crafty weekend around here – specifically scrapbooking.
Saturday was Memoranza with some of my Creative Memories scrapbooking pals – 12 hours of uninterrupted time to work on my 2005 album. The "limited edition" Project Spectrum March Mix CD from Anjo, aka the Craftymodster was a well enjoyed soundtrack to our crafting. (No pictures of the CD today because I accidentally left it at Jen's…in addition to containing a clever mix of red & pink tunes the CD case is a great display of red & pink.) At the end of the evening I had completed the layouts for 16 double page spreads – all that I have left to do is the journaling/captioning & some stickers & the pages will be complete!
As I was looking through all the pages I had completed I discovered that I had actually used quite a bit of pink paper in my layouts – here is a sampling of the papers that I used.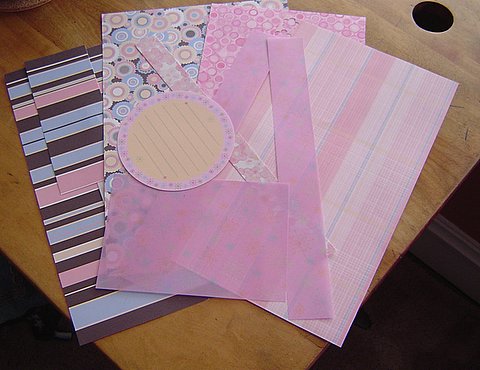 More pink & red crafting "reveals" will be coming throughout the month.