I have always liked flowers – both in nature and in art. Whenever I visit a museum I'm apt to pick up a postcard or print of any flower art that I've seen. On one bedroom wall is a collage of assorted prints from Redon, Renoir, Redoute and Cezanne. In the dining room, the floral bouquets of Jan van Huysum decorate the walls. When I see these prints I'm reminded of fun trips to the National Gallery of Art, the Getty Museum, and more. When given the chance, I enjoy planting flowers outside & watching them bloom. Summer visits to the farmers market mean coming home with armloads of assorted flowers & making flower arrangements to enjoy inside.  Trips to the botanic gardens in Chicago, Atlanta and Dallas have been filled with fun times and photo ops with family and friends. Sunflowers always make me smile.
This time of year, I enjoy watching amaryllis (actually hippeastrum), paperwhites and hyacinths bloom indoors.  This week it has been fun to see the 3 blooms emerge from this year's bulb. The cheery red blooms brighten the room.
B is for BLOOMS & BLOSSOMS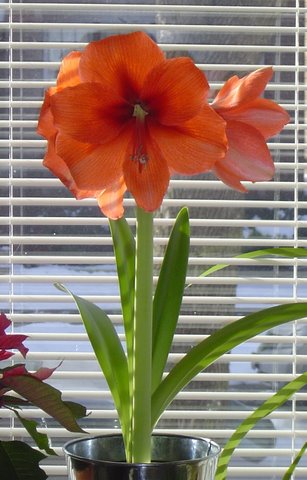 As the blooms have been growing in my living room, blooms and blossoms have also been growing from the knitting needles.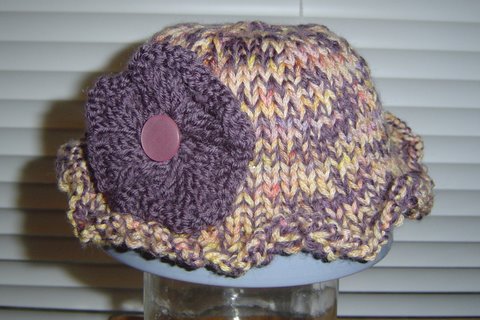 Bloomin' Baby Hat
A friend is having a baby girl in a few weeks. I wasn't able to make it to her baby shower; however, this little hat was there. Since Baby T will be joining a big brother I knew I wanted to give a decidedly girly gift & I wanted to branch out from the standard baby patterns that I've done before. Enter Ravelry – a search on baby items yielded the hat pattern. With the pattern in hand I dove into my stash & found a fun yarn combination. Within an evening the hat was on & off the needles. Once it was finished I knew it needed a little "something" extra – the original plan was to crochet a few flowers to add to it. Instead I knit a morning star flower from the pattern in Last Minute Knitted Gifts and then attached it to the hat with a button I had pulled from Grandma's button box.
Details: Lilly Hat by Larissa Brown; Jaeger Matchmaker Merino & Koigu Kersti held together on size 9 DPNs.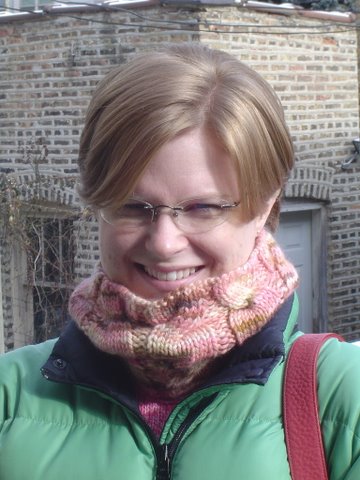 Cherry Blossoms Neckwarmer
When I was in My Sister's Knits earlier this month I saw this yarn & immediately thought of cherry blossoms. Many people think of the Cherry Blossom Festival in Washington DC each spring – my first thought for Cherry Blossoms is Macon, GA – in high school and college the Artisan family always enjoyed the great festival that celebrated the early blooms of spring. My original plan was to knit the skein into the Ribs & Ruffles scarf from the vendor website. Once I got the yarn home and was looking through my Ravelry queue I decided that a neckwarmer would be a great use for the yarn.
The details: Cherry Garcia from Hello Yarn; Misti Alpaca Chunky handpainted on size 10.5 DPNs.
Before too long, it will be time to pick up tulips from the store & bring cheer to the house…and then it will be time to think about what gardening will occur on the deck and in the flowerbed this year.