When I started blogging in 2006, I found several blogs that I read were participating in an ABC-along. I was intrigued by the idea – so when I saw that another round was planned for 2008 I knew it was an "-along" that I wanted to join. I don't know how many "-alongs" I will join this year but this is one that I look forward to working through. For some letters I already know what I will post – for others it's still a mystery what I will blog.
A is for ALIAS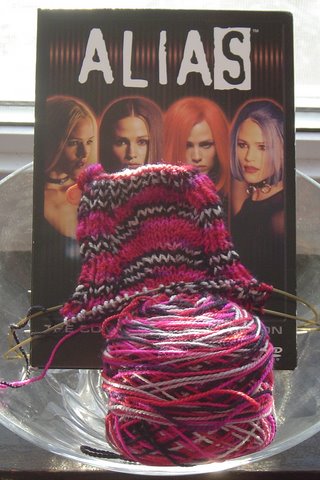 (You thought I would pick Amy or Artisan, didn't you?)
In 2001, I remember seeing the ads for a new show called Alias and I thought it looked like something I would be interested in watching – little did I know…
I was home for the weekend in the 'Ville when Alias premiered at the end of September, 2001 – so Artisan Dad watched the premiere with me and we both were immediately hooked on the show. It quickly became a routine that on the morning after an episode I would call Dad during my commute and we would talk all things Alias – the gadgets, the plot, the twists, the family relationships, the time warps that allowed them to travel around the world & back in seemingly the same day, etc.
Throughout the seasons this was a "never miss" show for me. If I wasn't home the VCR was in action. When I met Jen & Greg we quickly discovered that we were all Alias fans – so there were times when a tape was passed around to catch up on a missed episode.
Fast forward to Season 4 – Maya was still in Chicago and I got her hooked on the show. Most Wednesday evenings I would go over to Maya's to hang out with her & Miss Butterfly while Matt was out playing basketball with the guys. After dinner and some playtime we would put Miss Butterfly to bed & then watch Alias. To catch up with the show, Maya & Matt borrowed my DVDs of the earlier seasons and eventually Matt's parents got hooked on the show as well.
As Season 5 was coming to an end I was just starting my project in Chattanooga. It was only fitting that I was able to watch the series finale with Artisan Dad back in the 'Ville (we both weren't around on the evening that it aired and so watched the tape the following weekend when I was home for Memorial Day).
As a fan of Nancy Drew and Wonder Woman as well as mystery/intrigue novels (including some Tom Clancy) it seems like the next step in the entertainment evolution that I would have latched onto this series. The seasons on DVD are in my "go to" rotation when I want something in the background during a rainy/snowy day inside knitting. Every so often I'll encounter something in everyday life that will remind me of something from the show – for example, whenever I see someone talking on the phone in a parking deck I wonder if they are really on the phone or just trying to not stand out (a key scene from the pilot episode).
When I saw this yarn, even though the colors are not quite me I knew I would knit it up – it is the Alias colorway from the TV Yarn collection. In keeping with the A – it only made sense to knit up the Ampersand pattern. It has been fun to see how this colorway plays with the pattern – the white/gray/black is spiraling around the sock to break up the bright colors. In the dreary mid-winter days this colorway is a cheerful diversion.