The new year came in with a gust of COLD air – the wind chills stayed south of 0 for a couple of days and so many methods are needed to keep warm when venturing outside.
Method 1: A new scarf around the neck.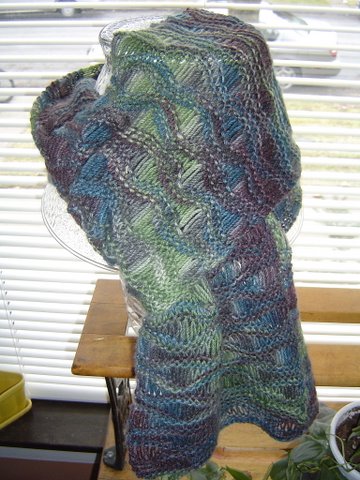 I have been able to fight off the chill with a new scarf – my last finished project for 2007.
The Details: Easy Drop Stitch Scarf Pattern from Frazzled Knits; The Knittery 4 Ply Sock: Merino & Cashmere in the Earth colorway. Size 10 1/2 needles. When I received this yarn from Camee in the Knitters Tea Swap 4 I knew that it was too pretty to hide in shoes – a scarf was in order. I had initially planned to make the Morning Surf Scarf with this yarn. Both of these scarf patterns are based on the seafoam stitch. The "deciding" factor was that the Easy pattern had an 8 row repeat versus a 12 row repeat – heading into my Christmas vacation the 8 rows seemed easier to memorize. So, I knit the first 8 rows while waiting for my taxi to head to the airport – once through security, as the flight was delayed about 4 hours I continued to work on this scarf and when we finally boarded the plane I had about 20″ complete. I knit on this while at home with the family and then once I was back in Chicago it finished up quickly. To block this scarf I used my new blocking wires – wow! It was so much easier than the myriad of pins that I've used in the past. I love the colors of this scarf! This scarf looks great with my assorted winter coats and will get a lot of use this winter.
Method 2: A new hat to keep the head covered.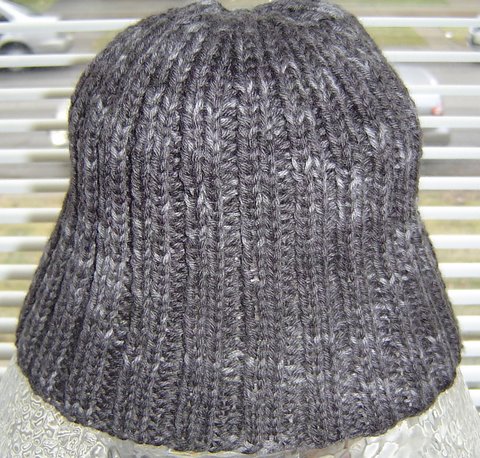 I had a charcoal yarn in my stash that I thought would make for a nice complementary hat for the new scarf. Since the scarf had more detail I wanted a simple hat.
The Details: Ribbed Hat from One Skein Wonders; Sugar Bunny Boulevard Sock Merino in Soot; size 6 needles; yarn held double. A quick pattern that yielded a soft and squishy hat in just a few hours. I think I have enough yarn left over to make another hat – maybe a gift? Holding the yarn double provided an interesting play of the charcoal and gray subtleties in the yarn.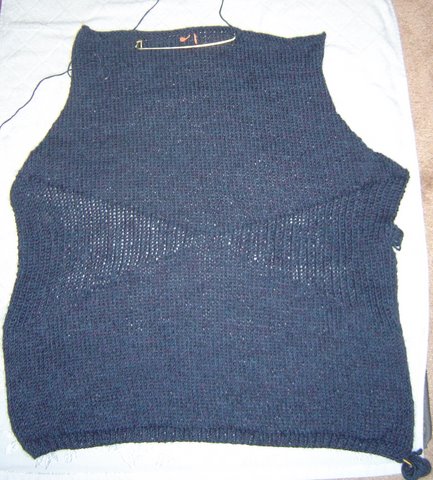 While staying warm, I have finished the back half of my (first!) sweater. Now it's on to the front half of the sweater. Since the two halves are identical to the neckline I made notes of the exact row counts through each section so that they will match up when I go to seam them up. This has continued to be an enjoyable knit – I have made a few mistakes that involved ripping back a couple of rows – these were definitely user errors.
In addition to the new handknits to keep me warm outside, I've stayed warm at home with older handknits – my Fetching mitts have kept my hands warm & my 2nd pair of handknit socks have been paired with my new slippers to keep my warm.
Yesterday I made a trip to My Sister's Knits to pick up some yarn for a secret knit to provide some comfort and warmth. A quick visit to the store lasted several hours – as is often the case, a common thread of knitting allowed for lots of conversation with the other customers there: Ravelry, favorite patterns, providing first hand reviews of many of the gorgeous yarns in the store.
In true Chicago weather fashion, this weekend is quite a warm up from the bitter cold of a few days ago – today we hit 60 and all of the snow from the previous 10 days has melted away. Also in true Chicago weather fashion, I know that the handknits will be needed before too long to keep me warm outside once again.
What keeps you warm these days?