Christmas this year was another fun time at home with the family in the 'Ville. Friday evening I flew home – well, actually after the 4 hour flight delay it was about 1 AM on Saturday when we landed. Thankfully I had a new scarf project in my carry-on bag – by the time we finally boarded the plane I had knit close to 20″ on it. It was late enough and I was tired enough that I knew better than to knit (even on this simple pattern) while flying – so Christmas tunes on the iPod passed the time on the plane. My time in the 'Ville was very laid back – it was great to just spend time with the family. Grandma's health has been up & down more in the last year – so it meant that we spent more time at home.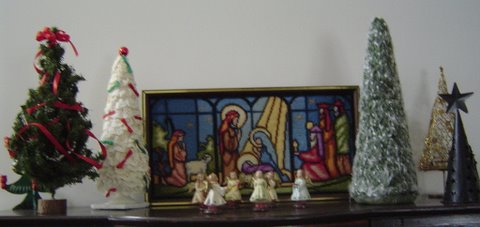 On Sunday evening we went to a beautiful Christmas service at church – Rebecca read one of the scripture selections. The selection of scriptures and songs in the beautiful candlelight made for lovely start to Christmas Eve/Christmas Day.
Christmas Eve was consumed with wrapping presents (note to self for next year – wrap early!) & finishing up with some decorating around the house. We ended up not seeing a movie (as has been tradition). After a yummy pasta dinner we did keep the tradition of watching It's A Wonderful Life – it's a story that we never tire of watching at Christmas.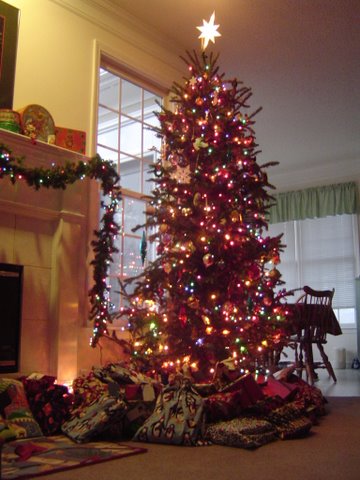 On Christmas morning the tree was surrounded by what seemed like a mountain of presents – the Artisan family must have been pretty good this year.  We opened our Christmas stockings (all needlepoint by Artisan Dad) and enjoyed Mom's orange rolls for breakfast before "tackling" the mountain of presents. As in years past, it was as much fun to watch others open their presents as it was to open your own. Included in the mountain were handknits for everyone (more details in another post). We also continued the tradition of receiving lots of books – so we all spent lots of hours with our noses in books.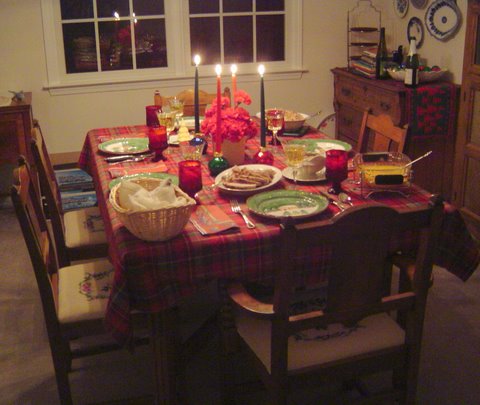 For the last couple of years I have taken charge of the Christmas dinner menu – it's a chance for Rebecca & I to have fun in the kitchen and give Mom a break. This year was another delicious spread. Earlier this month I came across the recipe for Pork Roast with Cardamom Mushroom Sauce and that became the starting point for our dinner. The rest of the menu included Cranberry and Toasted Pecan Couscous, Sweet Onion Casserole, Creamed Spinach (thanks Rebecca!) and Mom's Sour Cream Yeast Cresent Rolls. From a favorite winery in Michigan we enjoyed a tasty Edel Doux white wine. Dessert later in the evening was a delicious Pear Cranberry Crisp. We all agreed that the recipes were winners – I look forward to making them again!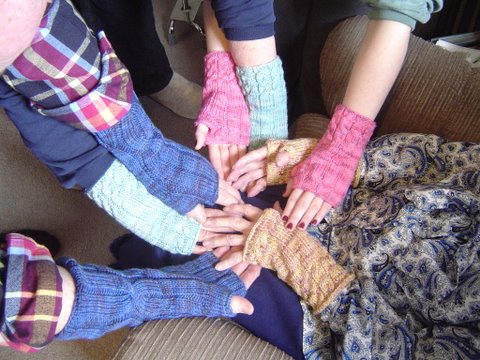 Before long it was time to head back to the airport and fly back to my home. Just like most families, we have assorted holiday traditions; however, I'm also thankful that we have a family trait of flexibility – even though we didn't do "all" of our Christmas traditions this year it was still a fun time of being together as a family and focusing on the real reason that we celebrate – the birth of Jesus!
(stay tuned – it's time to finally reveal all of the Christmas knitting…)