The odds are pretty good that I won't experience a White Christmas next week when I'm home in the 'Ville to celebrate with the family. This past Sunday was truly a White Christmas for me here in Chicago – a wonderful chance to celebrate the season with friends! What was initially forecasted to be "a bit" of snow ended up being 7+ inches by Sunday morning. While the earlier snowfall this month may have provided a bit of winter wonderland the new snowfall definitely kicked it up a notch.
The snow outside plus the house finally decorated for Christmas brought the holiday spirit into the house to stay. Last weekend I was looking to get my Christmas tree and at the 5th lot I finally found one that had charm; didn't break the bank; wasn't sprayed green and was just right – as soon as I brought it in the house the scent of a pine forest wafted throughout.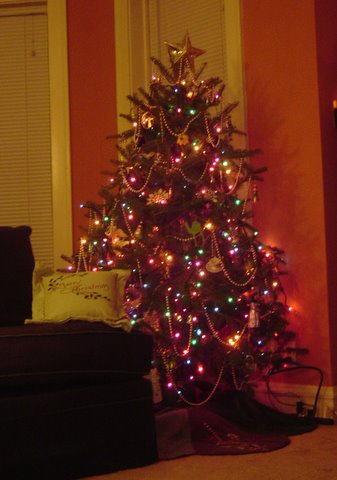 As the snow fell on Saturday I spent the time prepping for my 2nd annual Christmas tea with girlfriends. I was thankful that the snow didn't impact our plans – most of the gals were still able to come by on Sunday for a cup of Christmas tea and a great afternoon of friendship.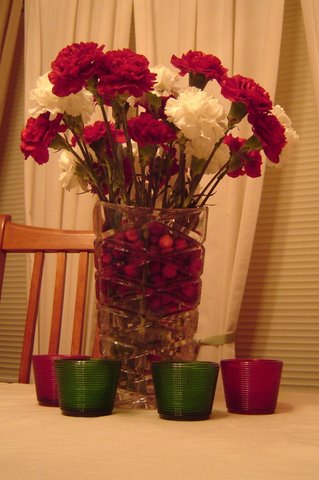 Once again, the afternoon managed to pass by without a single picture being taken. These flowers were in the center of the table and the platters were filled with: cucumber sandwiches (really, I don't think it's a tea without these); ham roll-ups with cranberry orange cream cheese; spinach dip tortilla roll-ups; mini quiches; mini cranberry pumpkin muffins; brownie bites (with a hint of coffee & cinnamon); Mom's Swedish brownies; strawberry jam shortbreads & a lemon chocolate pound cake (thanks Jen!); & a box of See's candies. My silver snowman tray was filled with an assortment of tea bags & everyone customized their tea with some sugar, cream, lemon or mint.
Like last year's tea, the afternoon was filled with fun conversations among friends in the living room surrounded by the Christmas decorations. The glow of the lights on the Christmas tree, the nativity mantel and candles throughout the living room was enhanced by the glow of friendship and conversation. It was fun to see "my friends" find commonalities among each other & dive deep into conversation throughout the afternoon. Everyone seemed to enjoy a few hours of slowing down and pausing over a cup of tea. I think that this will be a Christmas tradition for years to come.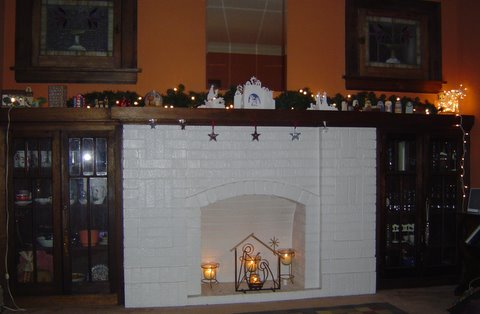 After the tea, it was time to celebrate Christmas with my Chicago family. Jen's husband Greg joined Jen, Kristy & I at my house. We ordered dinner from a favorite restaurant and had a fun evening of laughter, stories and exchanging gifts.  The first of my "secret" knitting was gifted – details to follow in a Christmas knits post once all items have been gifted.
The month seems to have just flown by – one week from now I'll be at home with the family gathered around the Christmas tree. Each of us will be enjoying a mug of coffee (& maybe homemade cinnamon rolls) as we begin to open Christmas presents. Later in the day, Rebecca & I will prepare Christmas dinner. When we look out the windows we may not see white; however, we don't need snow on the ground to have a cozy family Christmas.
Sometimes a White Christmas is a state of mind and sometimes a White Christmas is covered in snow.