Every year it seems like Christmas arrives into the stores and advertisements earlier and earlier. I had to chuckle when the Christmas commercials started in on Halloween evening – most households hadn't yet sorted through their trick-or-treat loot before the focus was on the red and green. With this rush to Christmas it seems like Thanksgiving tends to get overlooked. The last week has been filled with Thanksgiving fun that served as a great way to transition from autumn into the Christmas season.
In the last couple of years, a day trip on the Saturday before Thanksgiving has been what transitions me into Thanksgiving and on to Christmas. For 3 years now, Kristy & I have spent this third Saturday over in Harbor Country and this year the fun tradition continued. When we first ventured over there it was to pick up wine gifts at our favorite winery – the last 2 years we have added to the list of "must do" activities. This year's excursion started at Round Barn Winery and then a quick stop in the old-time Ben Franklin. Continuing down Red Arrow Highway we stopped in a favorite antique mall and then at Pomegranate Home – where the shop owner greeted us with "Hello, it's been a while since you've been in." (Sisters weekend in June) After lunch at Stray Dog, it was time to Sit & Knit. The entire time we were there the couches and chairs were filled with knitters – one woman was on row 3 of her first scarf ever when we arrived; cousins were working on assorted projects; Bill came in with a bag of knits and started to work on a hat for a niece and wow us with all the other beautiful yarns in his bag; a recent Brooklyn transplant picked up some bright yarn for a winter scarf and proceeded to cast on. All the while, Kim & Jack were the ever attentive hosts in the shop keeping the coffee coming and providing snacks to munch on. When our sitting and knitting was done, we proceeded down the Red Arrow Highway towards Michigan City – a few shoe purchases at the Bass Outlet and then some "serious" holiday shopping at the Meijer's. As we prepared to head back to the city I turned on the "constant Christmas music" radio station and commented to Kristy that it was now ok to hear Christmas songs. The yummy cranberry shakes from Culvers (best.shake.ever) kept the holiday spirit going. We arrived back in the city after the Christmas lights had been turned on along Michigan Ave. so the holiday spirit continued. In keeping with tradition, we ended the evening by picking up Thai food and watching Love Actually while working on gift knitting.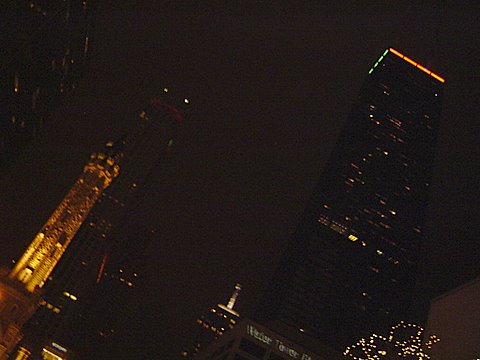 The Water Tower & Hancock Building & a few holiday lights
On Tuesday afternoon I headed to the airport to fly home for Thanksgiving with the family in the 'Ville. Over eight hours after I arrived at the Chicago airport I arrived to the Atlanta airport – however my luggage didn't arrive until after dinner on Wednesday. Tuesday was definitely one of the most difficult travel days that I've had in all my years of travel. At the last minute my flight was cancelled (reason: unclear) but I was immediately booked on the last flight out; however, that flight was delayed over 2 1/2 hours. Thankfully my carry-on bag was filled with plenty of knitting to pass the time. I think that Malabrigo projects are becoming a Thanksgiving flight tradition for me – when I got to the airport I cast on for a new winter hat and over half of the hat was finished by the time I arrived in Atlanta.
Our Thanksgiving day was quiet and filled with family, friends and food. We often joke that our Thanksgiving tradition is being non-traditional. The definite tradition is being together; however, the menu can be varied. In previous years we have enjoyed Thanksgiving dinner at Benihana and at the Planet Hollywood in Washington DC. When cooking at home we will try out new side dishes – but 2 things remain the same: how the turkey is prepared and the stuffing/dressing recipe that we use. This year family friends joined at our table. A favorite brussel sprout recipe is becoming my traditional addition to the holiday menu.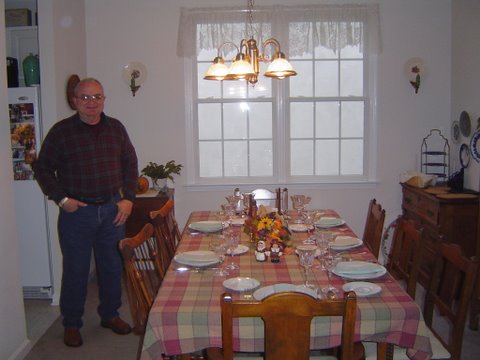 While at home I knit several triangles for a new batch of Christmas trees to be gifted this year. These will definitely be a family production – Mom & Dad will take the triangles and transform them into decorated trees – pictures will be posted later. In keeping with a recent "tradition" Dad & I picked up our Christmas tree on Friday morning – I helped to get the hundreds of lights on the tree on Saturday. While none of us were up at the crack of dawn on Friday morning to begin our holiday shopping, a couple of hours on Friday and Saturday with Dad and Rebecca yielded some good progress on the gift list.
Before I knew it, it was time to re-pack my suitcase and head back to my home in Chicago. An early flight this morning brought me and my suitcase back to Chicago with no problems at all. Today's airport and airplane time provided just the right duration to finish up a current pair of socks on the needles.
And so, Thanksgiving is over. Although, Thanksgiving is more than just a day on the calendar – it is a state of mind. So often I'm reminded of how many things I have to be thankful for: family, friends, experiences and more! In fewer than 4 weeks it will be time to head back home to celebrate Christmas. However, between now and then there are lots of things to "complete" on the path towards Christmas: decorating the house, finishing up the gift knitting (& shopping), hopefully some holiday baking, the company holiday party, holiday get togethers with friends and of course – just taking time to enjoy all of the magic of Christmas.
…stay tuned for a post with finished knits…