…Handmade…
As someone who enjoys knitting and other handicrafts, it is obvious that I'm drawn to the handmade in life. The last week has provided me with an assortment of A Mano moments.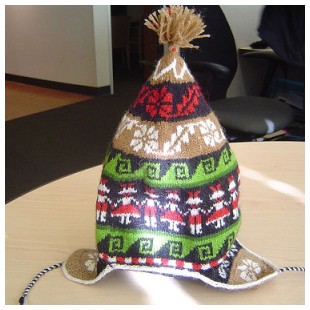 A co-worked recently returned from a vacation to Peru that included home stay lodging. As a way for the host families to recognize their guests, the mothers knit hats for everyone. Not only did the hat provide a signal in Peru, Stacey is using her hat to keep away the chill here in Chicago. I was in the office on Wednesday and had a chance to see this beautiful hat up close & personal. In a word – wow! The colors are so vibrant, the colorwork is so perfect. What a great way for her to remember this great trip.
 This handmade colorwork piece is definitely something to aspire to.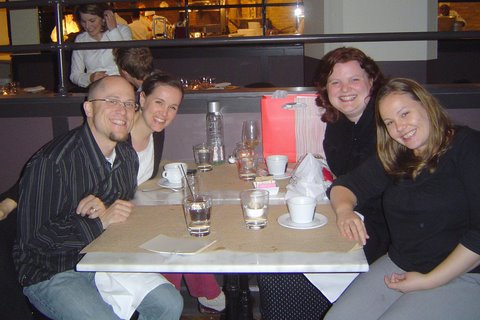 Another year, another birthday. To celebrate my birthday on Wednesday evening Greg, Jen, Kristy & I enjoyed a fabulous evening at a new restaurant in Chicago – A Mano. We were 'drawn' to the restaurant because it was part of the Bin 36 restaurants that we enjoy, it featured Italian food and they made many flavors of gelato in house. The evening didn't disappoint. This is a great place to go with friends and share items off the menu – in fact, all of the pastas can be ordered as half portions – all the easier for sharing. As the name suggests, the menu focuses on the handmade – from the starters of celery root salad, prosciutto, mole salame and a lamb meatball/eggplant pizza to the hand-cut pastas (gnocchi, lasagna Bolognese, pumpkin ravioli, pappardelle with boar & raisins plus  a mushroom risotto) to the gelatos (we sampled chocolate, vanilla, chocolate-hazelnut, pumpkin, mascarpone, coffee, and a cranberry-apple sorbet) everything was delicious. They have a nice Italian wine list and were helpful in pointing us towards a "new to us" wine that we absolutely loved – a white Pinot Noir. Instead of a candle in the dessert, they brought out half glasses of a rose' prosecco for us to toast my birthday – I thought that was a nice touch. It was an all around great evening and we all agreed that we needed to come back again soon to enjoy more of the A Mano specialities.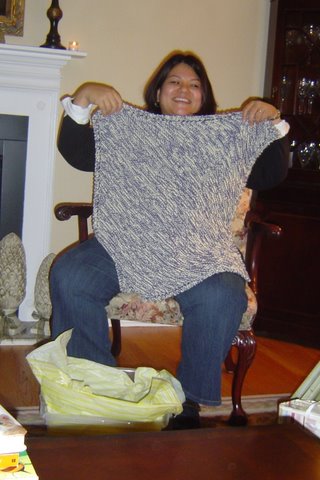 The last couple of weeks have been filled with some secret knitting. This weekend it was gifted and can now be revealed. My friend Kristina is pregnant with her first baby so one my Artisan Baby Blankets was in order. The gender of Baby C is not known so I went with a gender neutral color combo that also didn't fall into the traditional baby colors. This blanket was knit with Cotton-Ease in the Violet & Almond colorways held together on size 10.5 needles. This was my first time working with Cotton-Ease and it was a great knit – I think it will be able to handle the task of being a well used baby blanket. I hear that the blanket is in the bassinet awaiting the arrival of Baby C.
With the holidays just around the corner my hands will be very busy in the coming weeks with the assorted handmade gifts that I'm hoping to finish up. (Hmm…my sweater may be taking a back seat to other projects for a while…) I also hope to spend some time in the kitchen making some handmade Christmas treats to share. What about you – what handmade experiences are you having these days?