This past weekend it was time once again to spend several days in Texas with the adorable Miss Butterfly & Miss Doodlebug and their parents. I arrived on Friday evening (after the girls were in bed) and by the time the I left on Tuesday evening had enjoyed several days filled with tricks, treats and sweets.
The Tricks – Isn't it amazing what sticks & strings can become? This Halloween I used sticks to trick yarn into 2 Halloween costumes. Last Thursday I decided that I needed to bring a costume for the family Halloween party on Sunday evening. On Ravelry I had seen the Candy Corn Hat & had the colors in my stash of Sugar'n Cream dishcloth cotton – so Thursday evening I cast on for the hat. The hat was a very fast & easy knit – most of the knitting was done at the airport on Friday afternoon. As I was finishing up the hat on Saturday afternoon the girls were sitting on each side of me watching the stitches & giggled when I put a big candy corn on my head.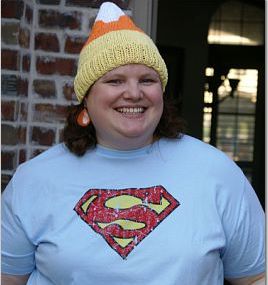 1 Candy Corn Hat + 1 Superman t-shirt = Super Sweet!
The 2nd string trick turned out to be the hit of the party. On Friday Matt decided he wanted to be a lion for the party because the girls love when he "roars" at them. Maya was stumped about how to do that costume on short notice. A trip to Hobby Lobby on Saturday morning yielded the ingredients for a yarn mane. On Saturday afternoon while the girls were napping I started to map out the mane and decided the best thing would be to knit a hat & attach the ears & mane to that. I cast on some stitches & made it up as a went along. Sunday morning the girls jumped on my bed to watch me knit and "helped" with the knitting and sewing (pulling yarn out of the skein). By Sunday afternoon we had a pretty cool mane (a skull cap, 2 knit ears & lots of loops of yarns) – I think I will write up this "pattern" & post it in the near future. Add a fur boa for a tail, some fur "scrunchies" at the wrist, paint on a nose & whiskers & soon you have a lion. The girls loved their daddy as a lion – they dubbed him the Lion King of Texas.
Another trick that had great reviews – the purple & orange finger jello that I made for the party & that we also took to the preschool party. The "magic" of 3 small boxes of jello + 4 packets of knox gelatin + 4 cups of boiling water never ceases to amaze kids & adults.
The Treats & Sweets – It is always a treat to spend time with these sweet girls – there were so many fun little moments as we were hanging out at home or out and about that just made me smile.
On Saturday evening we went out for dinner – at the last minute the girls decided that they wanted to dress up in dresses & high heels – they were so proud of their outfits and tried to act so grown up.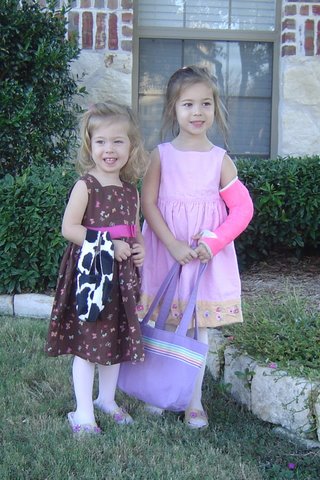 Home highlights – swinging on the swings, watching Disney's Robinhood – their continuous giggling during the archery contest scene was contagious, reading lots of stories, doing crafts, sitting on the bathroom counter while I did my makeup so I could powder their noses.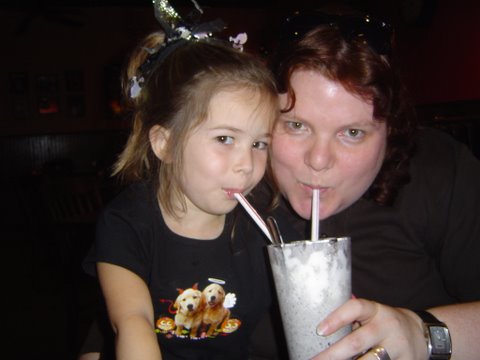 On Monday afternoon we made our annual trip to the pumpkin patch. In 2005 it was "too hot" on our visit (in the 90s) and in 2006 it was "too cold" on our visit – this year was "just right." Both girls were pretty adventureous with feeding the assorted animals. On the hayride we saw some turtles sunning themselves on a rock. Of course we took pictures in front of the "How Tall This Fall" scarecrow (taller & taller) and picked out some pumpkins to take home.
On Tuesday morning we dropped off Tinkerbell and Witchy Woo at preschool. Maya & I enjoyed a few hours of "big girl time" with some shopping & sushi before going to the school for the Halloween parade & classroom parties.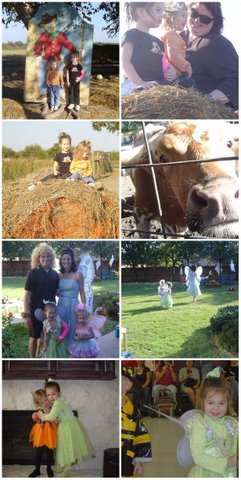 (more pictures here)
Too quickly it was time to come back home to Chicago. It truly is a treat to spend time with the girls.