As I mentioned in my last post – my Thanksgiving travels provided me the opportunity to start and finish a new winter hat and also finish up some socks.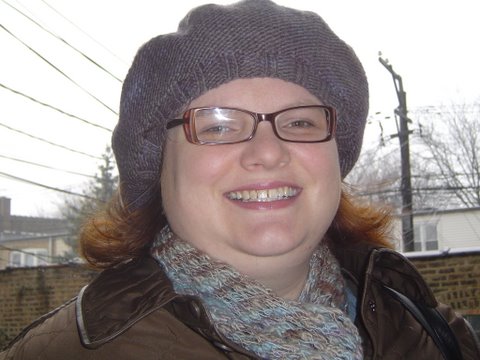 From Head…The Purple Purl Beret…As I was packing for my trip home, I picked out a skein of Malabrigo in the Pearl Ten colorway from my stash & put it in a ziploc bag with my size 9 DPN needles – I figured I would improvise some sort of hat as I went along. A quick search on Ravelry pointed me to The Last Minute "Purled" Beret over at Knit & Tonic. I printed out the pattern & added it to my bag. Once I got to the gate, I cast on for the hat. As the afternoon progressed into evening my flight was canceled & the next flight was delayed for several hours. By the time I arrived in Atlanta over half of the hat was complete. This hat was a quick project to complete & has been in use every day since I've been back from Thanksgiving. The beret is very warm and doesn't leave me with hat head when I come indoors. An added bonus is that this beautiful colorway compliments my Silky Summer Scarf that I made from the Brooks Farm Limited Edition III earlier this year.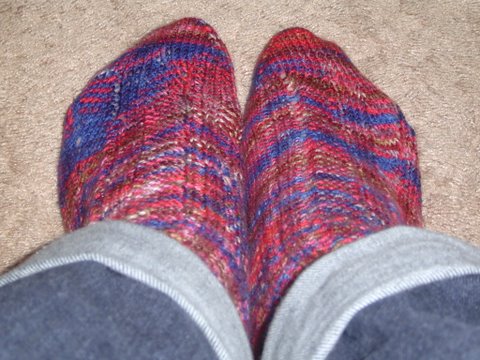 To Toe…My MTM Socks…My fourth pair of socks and the first "real" pattern that I've followed. And my favorite socks to date. I have often said that I'm a sucker for well named yarns – this yarn was one of those moments. I saw this Mary Tyler Moore colorway in the TV Yarn collection and knew that I needed it. I've always enjoyed the show – when I moved to Chicago over 8 years ago I remember an email from my Dad on the day that I flew up here where he imagined me throwing a hat in the air on Michigan Ave. as I walked into my new office. Through Ravelry I discovered the Ampersand pattern and thoroughly enjoyed knitting it – I will use it again in the future. On the foot of the second sock I accidentally went down to 23 stitches on the 2nd needle which caused the blue pooling towards the toe. The yarn was great to work with – I'm sure I will knit with it again (although I need to work through my stash a bit before picking up another yarn).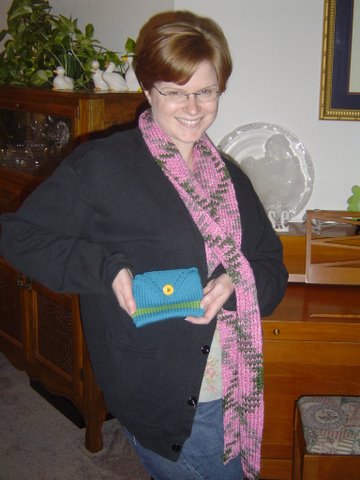 And More…Earlier this fall I finished up an iPod case for Rebecca and sent it home with Dad before I took a picture. While home, I managed to document the project. The flap is the "Grandma's Favorite" dishcloth pattern – I used bits of Cascade 220 from my stash.
Over 2 weeks ago my sister had an encounter with a deer while driving home from school. When she called to tell me about the accident she referenced the scarf that I knit for her earlier this year. Being the silly sister that I am, when I saw a skein of Bernat Camouflage yarn in pinks while in Meijers I knew a simple scarf was in order. I cast on 25 stitches & worked the yarn in a K1P1 pattern until I ran out of yarn. The gauge and width of the scarf cause the camo coloring to knit into more of an argyle pattern. I don't expect that this scarf will get a lot of use but when I saw the yarn I couldn't resist.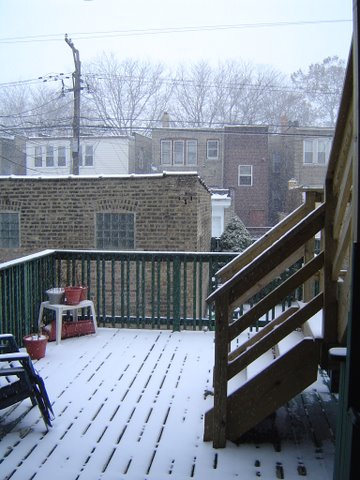 Not only is the holiday season in full force these days – the handknit warmth season is in full effect here in Chicago. This weekend saw our first "real" snow of the year. As the snow moved through and changed to sleet and then rain it was "perfect" weather for staying inside and continuing to make progress on holiday knits. The forecast for this week looks very chilly – so handknit hats, scarves and wrist warmers will definitely be in use during the commute.