With the summer heat that has invaded Chicago over the last couple of weeks, icy treats are a good way to beat the heat. My favorite these days is iced coffee.
Another favorite summer cooler is ice cream – although I don't seem to keep it in the freezer a lot these days. Ice cream from the grocery store freezer case is nice, but there is just something much better about ice cream from a fun shop or ice cream that you make.
Not too far from my home is an ice cream stand that is definitely a throwback to a different era. One Saturday this summer I 'finally' stopped in to check it out and it was worth the stop. On a hot summer day I thoroughly enjoyed my soft serve cone that had been dipped in butterscotch. Their menu was huge – I went with a standard favorite for this trip instead of something new. As I enjoyed this cone I thought on other favorite scoops from summers past. Grab a few napkins and don't let the ice cream melt…
When I was in elementary school we would visit my grandparents in Akron, OH during the summer. I remember many a trip to Springfield Lake to play in the water and we would always stop at Strickland's Frozen Custard on the way home. From then on, any frozen custard treats were always measured against Stricklands. Earlier this summer, Mom & Dad's road trip included a stop back in Akron – so of course they had to enjoy some custard for old time's sake. The expression on Dad's face sums up this delicious treat.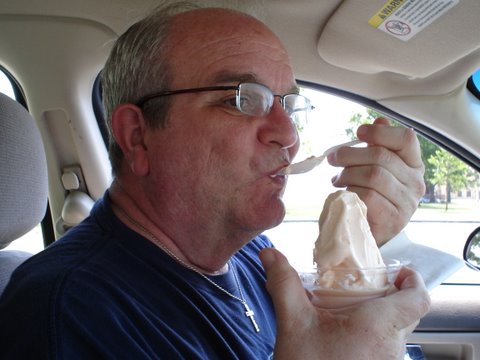 When visiting Harbor Country in the summer season, the weekend isn't complete without a stop at Oink's Dutch Treat for ice cream. Our trip this summer included visits on both evenings. (And I saw several other vehicles there on both nights – we weren't the only ones indulging!)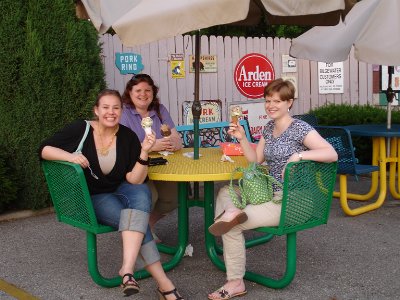 Without a doubt, one of my favorite summer scoop memories is the first gelato I had in Florence during my Italy/Greece trip in 2005. After a long time traveling, we finally arrived in Florence around 1AM and were quickly back up & ready to start touring with Rebecca's school group. After a morning of touring the sites we had some free time and our first stop (before lunch even) was a gelateria that we had seen early on. After Jen, Greg, Rebecca & I 'finally' decided on our flavor selections the gal behind the counter was kind enough to take our picture. Throughout the rest of our trip we tried to eat gelato as often as we could; however, I'm not sure that any of them quite compared to the first scoops.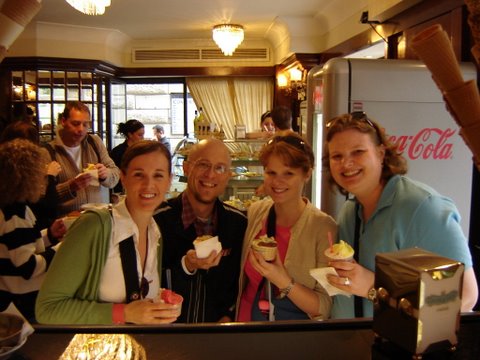 Ok, I managed to make it through those frozen treats without a brain freeze or ice cream dribbling from the bottom of the cone. Now it is your turn…
What are some of your favorite summer scoops?