This month marks 10 years since I first learned how to knit. It started quite simply – I wanted to learn how to make the cotton dishcloths that were always stocked in our kitchens while I was growing up. In September 1997 I flew to California for a long weekend at Grandma's house. In addition to relaxing, my only other agenda item for the weekend was learning to knit the dishcloth. We headed to a local craft store and picked up a pair of Susan Bates metal needles (size 8 ) and some Sugar'n Cream kitchen cotton and began the lessons. Throughout the weekend I would knit off and on – I remember sitting in grandma's recliner in the living room working through the simple stitches.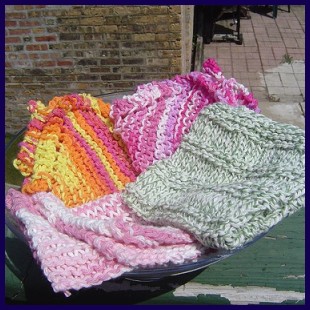 After that weekend, I knit dishcloths intermittently over the next couple of years. Fast forward to Fall 2001. By this point, I had moved to Chicago and was on a project up in Milwaukee. I happened to pick up a copy of Real Simple magazine (Nov. 2001) and it included a simple striped scarf pattern. With evening 'free' time in the hotel each week I decided it was time to get knitting again. A trip to Michael's yielded a couple of skeins of Lion Wool Ease in shades of gray and gray. The scarf quickly grew and when I went home at Thanksgiving Mom helped me finish up the scarf. All winter I wore that scarf with pride and looked for "the next project."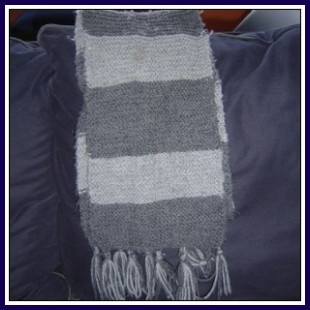 A co-worker who had been in Milwaukee with me was expecting her first baby so I decided a baby blanket was in order. Instead of looking for a pattern I went with what I knew – the simple "Grandma's favorite" pattern, just bigger. Once the first blanket was complete I started a second blanket – this time for a cousin's first child. This fall both of those kids have started kindergarten – how time flies.
In 2002 I took my first formal class – knit hats. It's amazing that the knitting continued – at the first session I was told in no uncertain terms that I was casting on incorrectly (to the tune of "where did you learn to do that? you do it wrong"). I modified my cast-on and kept on knitting.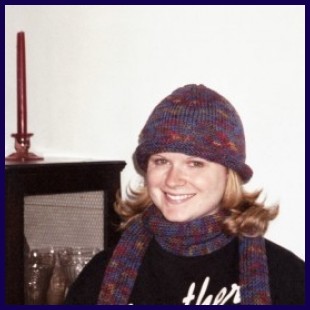 In 2003 I took a sock class. At the end of the class I had one sock complete and felt so proud. I got about 2 inches into sock #2 and stopped. Not sure why – other than it just seemed like a lot of hassle to mess with all of the double point needles.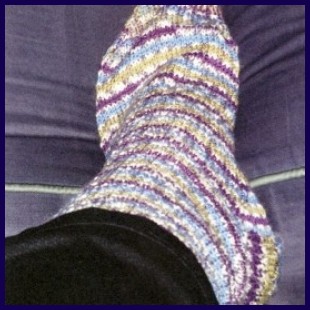 The knitting continued throughout this time. Of course there were dishcloths. As more friends had babies, I continued to make baby blankets and some hats. Also a couple of scarves. In 2004 I took a pillow class. The goal was simple – at the end of class I would have one pillow with 2 different knit sides. One side was intarsia & one side was cable. It was in this class that I learned the importance of gauge – or rather I learned this lesson after the fact. We didn't do a gauge swatch and as knitting progressed it became obvious that the 2 pieces would not match up. So, I ended up with 2 pillows at the end of the class. In 2004 I taught my friend Jen how to knit. The next year I taught her sister, Kristy.
Fast forward to fall 2005. I stumbled upon the world of knit blogs and discovered a whole new world of knit possibility. Late that fall I picked a URL and made plans to start blogging at the start of 2006. Since jumping into the world of blogging I feel like my knitting has really expanded – 2006 brought the most knitting to date and 2007 looks to be even more. As this blog has chronicled, my knitting has continued to evolve – from that first Grandma's favorite dish cloth and the simple garter stitch my repitoire now includes many stitch patterns, cable knits, lace knits and (finally) socks.
Now knitting is almost always with me. In the backpack for work. In the suitcase and carry-on for travel. I even have a ball of dishcloth cotton and needles in the trunk of my car for those unexpected delays.
As my knitting increases, my Grandma's knitting is decreasing. Whenever I'm knitting while visiting at home she comments "I'm so glad you learned how to knit." Me too, Grandma, me too.
So now, at the start of my second decade of knitting I am doing something I never thought I would do. I am starting to knit a sweater for me. During one of my knit classes (either hats or socks) I remember specifically saying "I enjoy knitting but I can't see ever making a sweater." Never say never. When I was home in the 'Ville in July my sister & I were hanging out at the bookstore and I was flipping through knitting magazines. I was struck by the simplicity of this pattern and thought "I can do that." At Stitches in August I picked out a beautiful alpaca/wool blend for the sweater. This weekend I swatched for the sweater and now am ready to embark on a new knitting path. Stay tuned in the next couple of months for adventures in sweater knitting.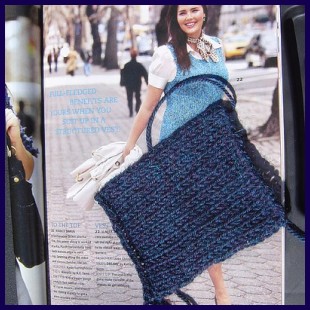 Since that first dishcloth 10 years ago, knitting has become much more than I ever imagined it would for me. Knitting is truly a bridge – back to the heritage of my grandma and forward to the friends that I have made through the craft. It is also "my own way" of continuing the needle and hand crafts that Artisan Mom (sewing, cross stitch, embroidery) and Artisan Dad (needlepoint, stained glass, painting) have done for years. It is a way to unwind from the hectic pace of the world today. It is a simple way to wrap family and friends in love.
So that is my knitting story. Thank you for sharing in the journey with me so far.