How appropriate that after blogging about the sounds of summer this past week treated us to a taste of fall weather. And how better to spend a fall-like Saturday than at a fair? The Renegade Craft Fair was in town this weekend so that became the starting point for a fun Saturday with friends. After picking up Kristy & Elaine we headed over towards the fair. We spent several hours looking through all of the booths of fun, quirky, unique and beautiful items. While I didn't leave with nearly as many things as previous fairs this summer I did pick up a few things as a jump start for Christmas gifts. (As such, they are tucked inside the cute zippered pouch that I picked up for me)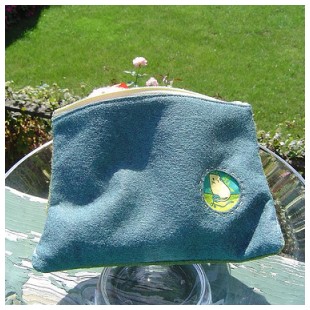 Our time on Division ended with a great mid afternoon meal at Aki Sushi. It was our first time at Aki and we weren't disappointed with our order. Since we were feeling crafty we decided to check out a "new to us" local yarn – Knitwerks. For several months I had been wanting to check out this store and after hearing Lolly and Nova rave about it when they were in town I knew I needed to get there soon. All of the buzz that I've heard was right – this is a great addition to the Chicago yarn community. So many beautiful yarns and colors – you just want to touch it all. Cherrl was so welcoming and friendly – Kristy's sandal had broken and she offered a nearby store to pick-up a pair of flip-flops, our next visit will need to include time to check out the nearby Italian cafe that she recommends. Of course, we didn't leave there empty handed. Elaine discovered the beauty of Dream in Color yarn and picked up a couple of skeins – she isn't sure if she is going to crochet a scarf or have me teach her to knit one. I also picked up some needed needles and also some yarn for gift knitting (so no pictures here).
Speaking of local yarns – have you seen KnitMap.com? It has just launched and aims to collect all of the local yarn shops in one "go to" site with ratings and comments from local knitters. As someone who travels a lot, this will be a frequently visited site. I've already added one of my favorite shops to the mix.
Saturday's weather was perfect for revealing a new knit project. Earlier this summer I made a scarf as a gift for Elaine (either a very belated gift for her last birthday or an early gift for this year). I gave it to Elaine first thing and it turned out that it matched her turtleneck perfectly so it immediately was put to use. Introducing – Sage Friend: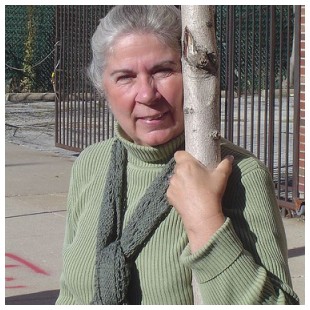 The details: Midwest Moonlight from Scarf Style; 2 skeins of Baby Pima from Catalina Yarns; Size 10 needles; This was a very fast knit. The yarn was very soft and even after blocking it retained the softness.
There has been a lot of knitting happening around here in recent weeks. Some has been gift knitting so it can't be revealed. Other items are ready to show.
First up: Silky Summer Scarf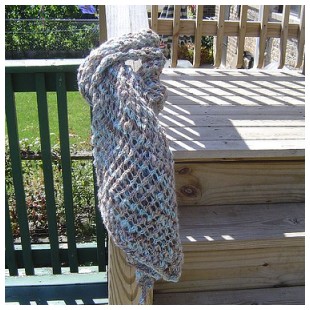 The details: Montego Bay Scarf from Interweave Knits, Summer 2007; 1 skein of Brooks Farm Yarn – Limited Edition 3 (picked up at Midwest Fiber & Folk Art in July); Named Silky Summer because of being a summer knit – which will keep me warm in the fall & winter. This yarn was such a treat to work with – it was so fun to see the colors change from one to another and also see the yarn change from really thick to really thin. I'm glad I picked up 2 more skeins of this for another project.
Next up: Knit for a Cure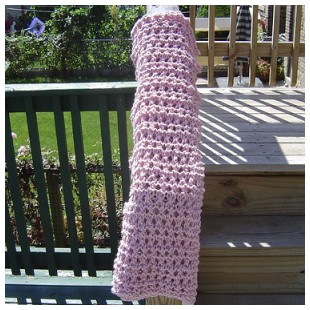 The details: Based on Bejeweled; 2 skeins of Lion's Brand Nature's Choice Organic Cotton in Strawberry; Size 13 needles; Knit in preparation for a Breast Cancer Awareness event. Stay tuned for details. This was my first time working with this yarn and it was great to work with – I think I might add it to my list of baby blanket yarns. The resulting scarf is so soft. As I've said before, the Bejeweled stitch pattern is a great go-to pattern and each time I knit it the result is beautiful – on the large needles this was a fast knit – I started & finished it this weekend while catching up on my Netflix.
During the odd bits of time & while watching movies at the theater I've continued to build up the dishcloth stash.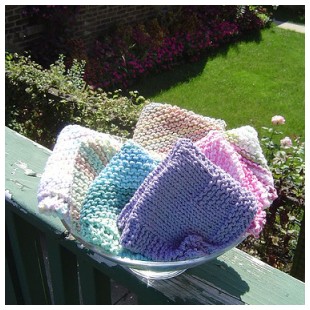 Many other projects are currently on the needles – including some holiday gifts (so no pictures). The knits that can be shown are very appropriate for this final month of Project Spectrum 2.0 – variations on browns.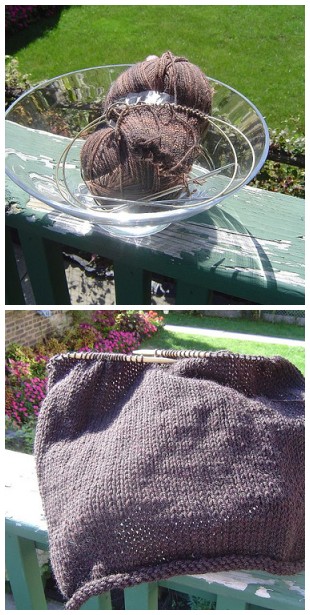 Chocolate & Spice Socks – my current "basic sock" (in Trekking XXL #183) that stays in the work backpack or purse; Celebration Tote – my latest felted bag starts with a lot of brown knitting.
While the list of projects I want to knit seems to be never ending it is nice to see projects get completed and come off the needles.