As I mentioned in my last post, I had hoped to start February with a blue finished object; however, the hotel knitting last week just wasn't happening. On Monday I cast on…knit round & round, cabled, knit round & round and then discovered a problem with the first cable – so I ripped it all out. On Tuesday I tried again…cast on, knit round & round, cable, knit round & round and then discovered a problem – so I ripped it all out, again. Fast forward to last Friday evening – I cast on, knit round & round, cabled, etc. and by the end of the evening Blue Fetching #1 was complete. I did discover one "issue" with it but it was something I could incorporate into the pair. Saturday morning I cast on for #2 and later in the evening was finished. Ever since I finished Grandma's pair I was wanting to make a pair for me and with the deep freeze that has descended it was a the right time to make this pair. They came in handy (oops, no pun intended) this week with all of the drive time to/from WI they were the perfect thing to keep my hands warm. (And they are on my hands now as I type this entry.)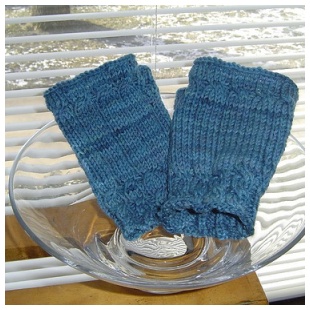 The Details:
Fetching in Dream in Color in Blue Lagoon. This is a "new to me" yarn and I love how the color subtleties knit up. My extra "design feature" the palms of both mitts don't have the third cable.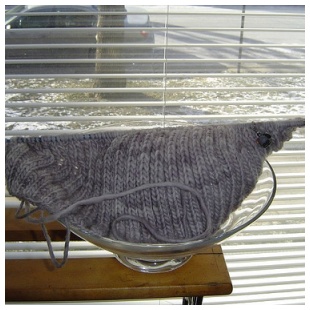 Next on the needles is Calorimetry from Knitty. I knit it up on Sunday but encountered sizing issues and had to rip it all out – so will finish up version 2 this weekend. I had hoped to complete it this week as my hotel knitting; however, for the second week in a row I had knitting error problems with Monday night knitting. I think going forward I shouldn't plan to accomplish any real knitting on Mondays when I travel – I'm just too tired at the end of that day.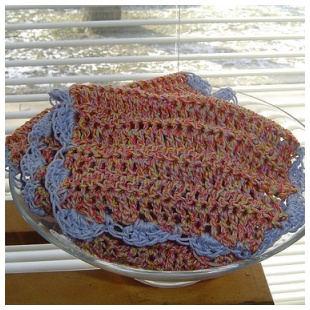 This weekend is my final crochet class. Last weekend I added the shell border to the edge and will learn to make flowers on Saturday. Now I'm ready for warmer weather so I can wear my new spring scarf.
As I finish up these projects I'm wondering what I'll cast on for next. So much yarn, so many possibilities! Stay tuned…