Thankfully the Knitting Olympics are not a "one chance & you're out" type of event!
I continued to make progress on Saturday with the Capri Shawl. Around noon on Sunday when I started to add the 2nd triangle pattern into the shawl I discovered that I had messed up the 1st triangle. Since I want to enjoy this shawl long after the games are over I decided that the best option was to frog the whole thing & start over. Definitely a good choice! I have recovered & advanced passed where I was at noon.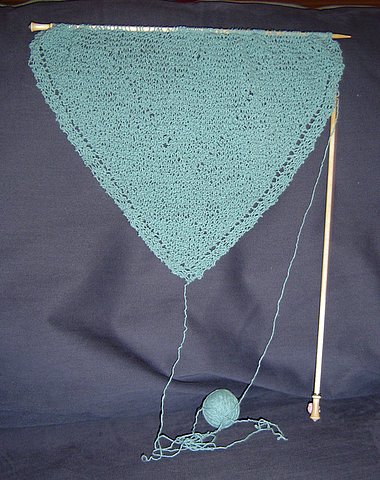 (The triangle designs are a bit hard to see when all the stitches are squished on 1 needle.)
What have I learned so far during my event? The directions for Capri are very light & have a bit of "do what you want" to them; however, the few "number of stitch" instructions that they have haven't been quite right in my book. After a bit of "Amy Arithmetic" I feel good about this pattern & the progress I'm making. I'm probably about 30 minutes away from finishing up skein 1 of 3. I feel this is knitting tight even using the size 9 needles that were recommended – next time I'll go with the 10. It has been a long time since I've knit on straight needles so that is taking some time to get used to again but is better now that so many stitches are on the needle.