My first reaction to The Yarn Harlot's call to "Citius, Alitius Fortius" was a bit of a chuckle. I have fond memories of Olympic crafting occuring in our house when I was growing up – specifically my Dad needlepointing. (A bit of history…my dad learned to needlepoint in the '70s when he was on missile crew alert for 24 hours at a time underground in Kansas.) I remember the Needlepoint Winter Olympics of 1988 when my Dad worked on this piece – 18 years later it still hangs in the entry of the house (albeit a couple of states & homes removed from 1988).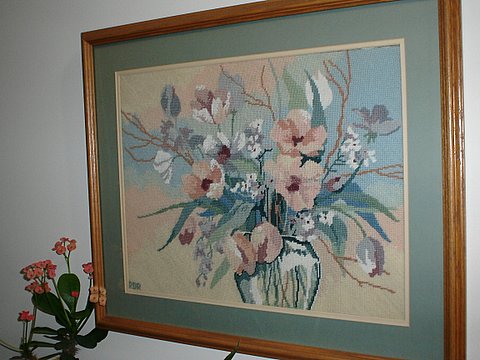 For Christmas this past year I bought Dad this needlepoint kit – specifically looking ahead to the 2006 Winter Games in Torino.
So, while I was casting on my for knit event in Chicago during the opening ceremonies Dad was starting his own Needle Games in Georgia.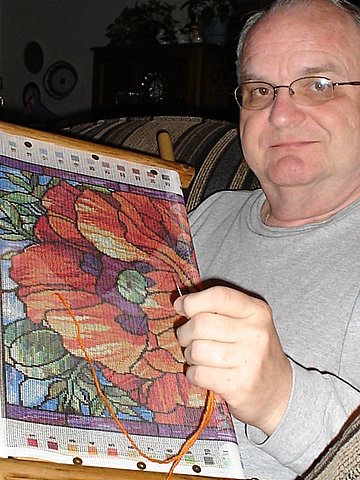 Even though Dad isn't planning to finish his project in the course of the games it is fun to know that "Amy Artisan" & "Dad Artisan" are both needling along with the athletes.
A few notes about the 2006 needlepoint – it is perfect for our family for a couple of reason: The Tiffany glass style (the whole family loves Tiffany windows & Dad used to do stained glass) & the California poppy (Mom is a native Californian, my parents met in CA & I have fond memories of growing up there while in elementary school).