Now that the torch is lit in Torino and the Athletes Pledge has been delivered it is time to introduce my knitting event for the next 16 days…
(…cue the Olympic Fanfare and Theme by John Williams…)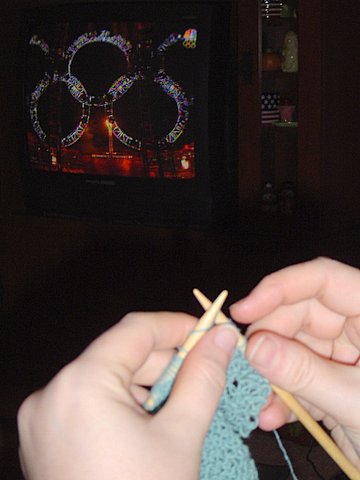 Steady knitting right after the torch has been lit.
The Capri Shawl from Morehouse Farms in Aqua
Good progress was made during the Opening Ceremony. By the end of the evening I was at about 50 rows. (That included 2 "issues" – 1 of which was the most delicate knit surgery that I've done…had to back out about 10 rows).
My friend Kristy came over to watch the ceremonies (& snap the picture!) – she didn't have any knit projects going so she had her own Paper Olympics making Valentines as I knit. We both thought that these opening ceremonies were fabulous.
The knitting continues now while watching the US Women's Hockey team. The rows on the shawl are still pretty short so they progress quickly – I know that will soon change but I'm pleased with the progress so far. The real challenge will be the blocking at the end – the full wet blocking is something new for me.
Why the Capri shawl? I was contemplating what to select when Lolly posted about her Morehouse Farms shawl project. As is often the case with reading blogs I followed the links from her post & loved the shawl kits. The Capri was an easy choice for my first lace shawl project – especially for these Olympics: …The Winter Olympics are in Italy…Capri is in Italy…One of my favorite stops on my Italy/Greece trip in June 2005 was Capri…the Aqua color of the yarn reminds me of the beautiful water around Capri…while the pattern may not be terribly difficult (& reminiscent of my baby blanket projects) it is a lace pattern which is a new skill…the full wet block at the end to shape the shawl is something I haven't done in the past & I think may be a challenge (or at least a test of my patience)…