As one way to be blogging on a regular basis, this year I'm participating in some blog link-ups. After "following" this one for last year, today I'm jumping into the "One Community" photography project that asks us to photograph words in our lives and communities. This month, the words are TREASURE – SILVER – RESOLUTION – WINTER.
Treasure…While home for Christmas, I snapped a picture of a family treasure that surely doesn't look like much. This ornament has been in the family since Dad was a baby. Dad was born during WWII and this ornament seems like a snapshot of the era to me – the glass has not been metallic glazed and the top and hook are paper and string because of the metal rationing in place during the war. While this may not be the sparkliest or priciest ornament on the tree, it is one of the most treasured by our family.
Silver…A bit of shine (and "hidden JOY") on my Christmas tree. I had several silver stars on the tree that provided extra reflection and sparkle during the holiday glow. Not on the tree this year…silver icicles that were so tarnished they were almost brown. (Note: need to get the silver polish out & shine up several pieces…) 
Resolution…As I refocus on fitness & nutrition this year, It's time to keep the sneakers active – walking around the neighborhood with an audio book, a lap around the office park at lunch, taking advantage of the Y membership.
Winter…Winter arrived early here in Pennsylvania this year. Before the first day of winter in December, we had already seen 4 snow events & almost a foot of snow on the ground. This week, another six inches followed by dropping temps and bitter winds. So far, we've had more winter this season than we did all of last year. After several winters in Marinette (& the Chicago-Marinette white knuckle winter commutes), this is still a "mild" winter for me. However, I am enjoying my 4 mile work commute in this weather, the ability to work from home, the rumbles & beeps of the snow removal in the apt. complex, the covered carport.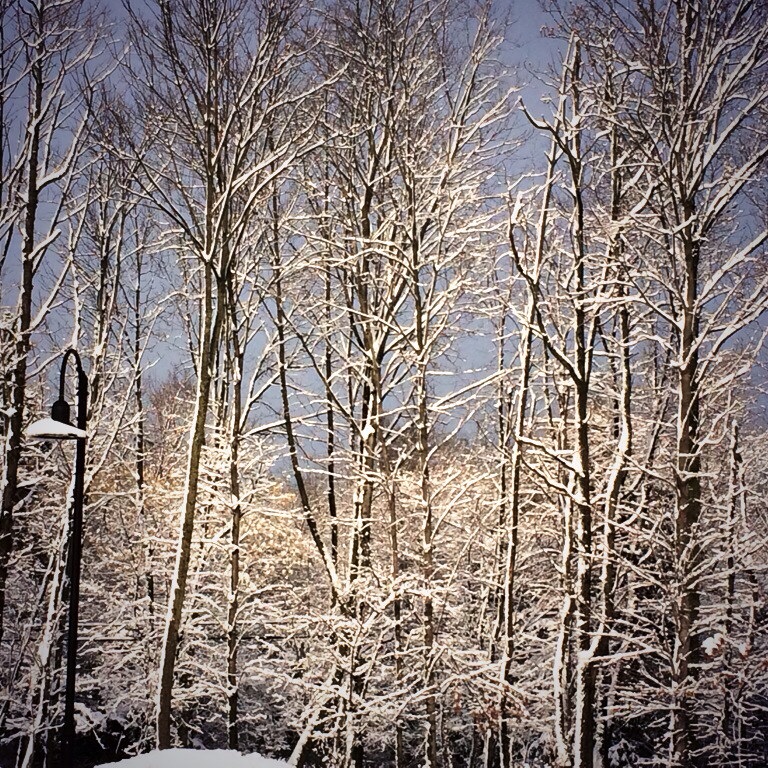 Winter
I'm linking up with other bloggers today through One Community – a monthly photo project that is all about the connections between us even though we all live in different places. Sarah is hosting the link-up here.