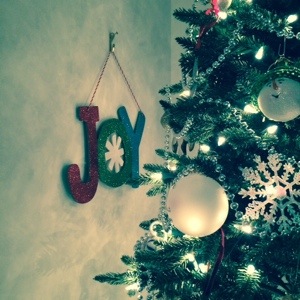 I have "one spot" in my living room for my Christmas tree to go. When the tree is up, it blocks a favorite framed antique botanical print I picked up during a family vacation to Bermuda. I take the art down for the month & instead of having an empty nail for the month, I hang a Christmas decoration there – even though it is pretty well hidden. This year, I chose a JOY cutout that I had picked up after the holidays last year. In the last couple of years I've noticed that I am drawn to "joy" as a theme of my Christmas – decor, Christmas card selections, greetings & more.
As I sit in my living room this month, the lights of the tree reflect off the glitter in the joy. As I catch the glimpse of this "hidden" joy, I'm reminded of the many moments in life where hidden joy can be found. Sometimes a detour can turn into serendipity that yields joy – or a moment of frustration dissolves into laughter – or a text or pic from a dear one arrives to your phone just when you need it most. Be it big or small, hidden joy is a delight to find.
What hidden joys have you found this year?