…no, unfortunately not a return to the isle where I snapped the picture in my blog header…
Well in advance of the buzz on Ravelry about the Ravelympics, I had started to ponder what my Olympic Knitting Project would be as I watched the games in Beijing.
For the Winter games in 2006, I joined in the "Knit Olympics" mania with my first Capri shawl. It was my first attempt at a lace project and provided me with several problems along the way. I pressed on & had a finished shawl at the end of the games. Honestly, the more I looked at it the less happy I was with the outcome. Since then I have never worn the shawl & now use it as a table topper in my bedroom. In Spring 2006, I knit a second Capri shawl as a birthday present for Artisan Mom – a shawl that turned out much better than the first.
Earlier this summer I came across an ad for Rock Creek Yarns. In addition to a beautiful Cherry Blossom yarn, I was immediately drawn to the Alpaca laceweight in the Trevi Fountain colorway – a subtle mix of water blues and grays. Again, the name of a colorway reminded me of a fond travel memory.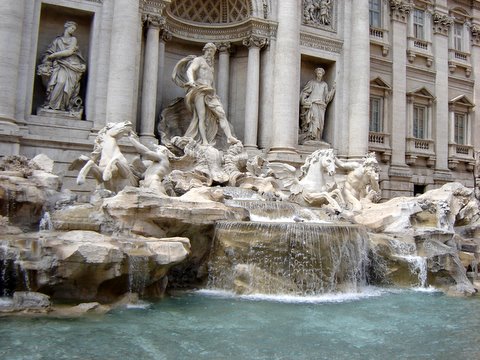 Ah ha! Trevi Yarn + Capri Shawl Pattern = 2008 Olympic Knitting Project
The yarn arrived & I wound it by hand into a ball, I picked up a pair of Addi Lace needles, I swatched. Last Friday evening I cast on while watching the Opening Ceremonies. I have had a few hiccups along the way; however, I'm making progress and believe I am on track to have a finished (& wearable) Capri shawl on August 24th.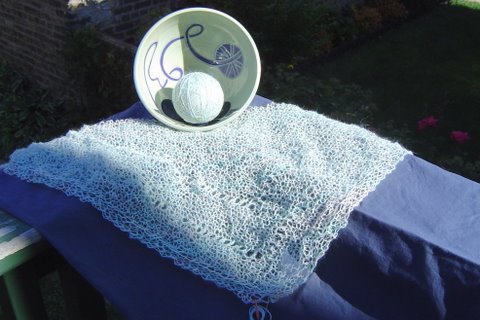 What have I learned so far with this most recent attempt on this pattern?
This is my first time using laceweight yarn – the pale color of it means that my eyes tired out on this project in the evenings before my fingers do.
This pattern is not conducive to stitch markers. So, I'm using a row counter & every odd row I am counting under my breath as I move across the row.
Even though this is a fairly simple pattern, it's best not to knit on it during the really exciting parts of the Olympic coverage.
Paper cuts on your finger tips (& the subsequent Band-aids) make the knitting much slower.
Laceweight yarn does not like to be housed in a project bag. But, I have a great remedy for this. The cute sheep & yarn bowl that I bought from Jennie the Potter at last year's Midwest Fiber & Folk Art Fair is the perfect size for holding the yarn ball.
And now, back to knitting & watching…