In recent years, when I travel I look for souvenir yarn. (Never mind the fact that I was in a bit of a knitting lull during the Italy/Greece trip in 2005 so I didn't pick up yarn on that trip.) I have mentioned before that my sister always seems to end up with souvenir yarn from our "sisters weekend at the beach" annual trips.
At the end of July, Rebecca had an opportunity to go to Peru for 8 days. When she first told me she was going, my initial comment was "stuff your suitcase with as much yarn as you can find" – she rolled her eyes at me. As we talked about the fiberwork that Peru is known for, she commented that she wouldn't bring me back a traditional hat – I argued that the handiwork in them was something to be admired & I would indeed like one. When I was home earlier this month, Rebecca presented me with my Peru souvenirs. I could say, "My sister went to Peru & all I got was this handknit alpaca." But I would be wrong – oh, so wrong!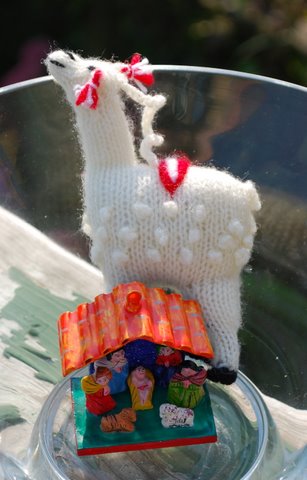 Indeed, I have an adorable handknit alpaca ornament. (And a cute little nativity to add to my growing collection.)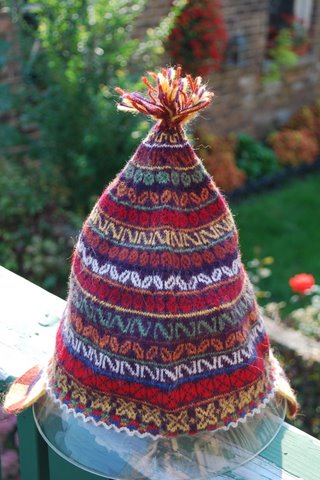 And…I have a traditional hat that is just beautiful! I'm just amazed at all of the colors in this hat & the detailed patterns. Rebecca came to appreciate the beauty of these & bought one for herself as well. Next time I'm home we'll have to get a sisters pic in the hats! I'm sure there will be winter days in the future where this hat will keep me very warm.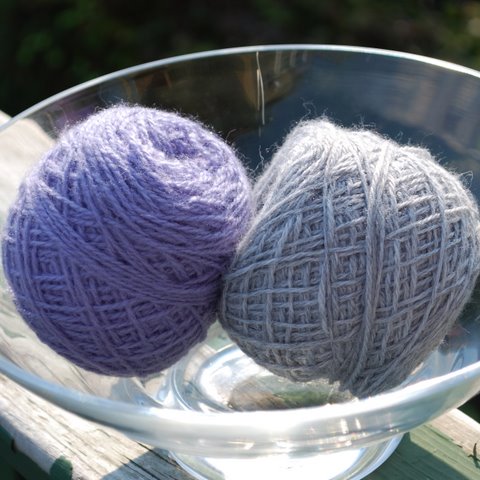 And…I have 2 skeins of super soft alpaca in pale gray & lavender. I'm thinking some sort of stranded colorwork with these. But for now, they are wonderful to just hold – about the softest yarn I have in the stash!
Given the limited luggage space that Rebecca had, these would indeed be great souvenirs from her trip. But no, she went way above & beyond in the souvenir yarn category. In Cusco, she (& her travel buddies) ventured to the only yarn shop in town.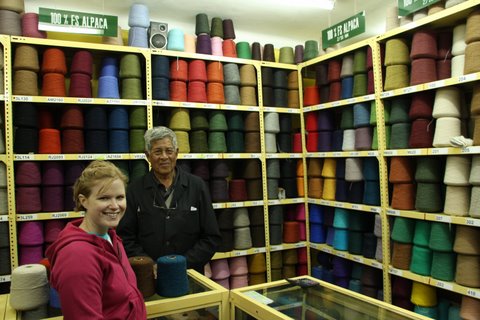 After appreciating all of the colors & all of the yarns from Michell & Co., she selected 2 cones of yarn to bring home for me. These are each 1 kg cones of pure baby alpaca – I think they might be DK weight (or maybe fingering, I haven't done the math on yardage & haven't found quite an exact match on Ravelry). One cone is a beautiful turquoise with just a hint of green; the other is a natural, undyed chocolate brown.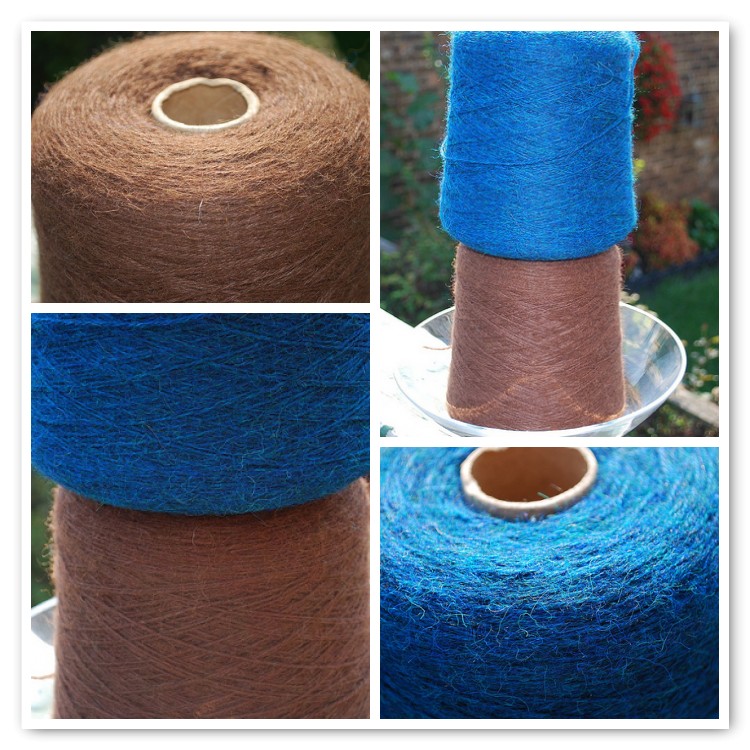 I don't yet know what these yarns will become – I am thinking sweaters may be in their future. It may be a while before I cast on with these yarns – I want to find 'the perfect' projects for them. In the meantime, they will have a prominent place in my crafting supply bookcase.
And whenever I look at them I will be reminded of what a great little sister I have been blessed with!
Thanks Rebecca!