As a child, you associate September with the start of school and learning new things. These days I associate September with learning stitches: September 1997: Grandma teaches me to knit; September 2001: I pick up the knitting needles again in earnest; September 2007: 10 years of knitting & I begin to knit a sweater; September 2008: 1st Sweater complete!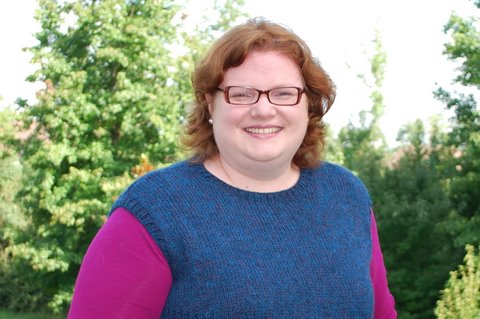 While the elapsed time to complete this sweater is indeed one year (ugh!) – the actual knit time was much, much less. The back half was knit from October through New Year's Day – in the midst of a fair chunk of holiday knitting. The front half was off the needles in early April. And then…both pieces sat & sat – all through the spring & summer. After I finished my Olympic shawl in August I knew that one of the next things would be finishing up my sweater. The trip home to the Ville was the perfect catalyst to get it finished so that I could show it to Grandma & have the backyard as a backdrop for pictures. As September rolled in, there was a bit of crisp in the air that helped spur me along to block, seam & finish the sweater on September 7th.
It was fun to walk into Grandma's den wearing my new sweater. The conversation went like:
Me: Look at the sweater I knit, Grandma.
Gma: Oh my!
Me: When you taught me to knit dishcloths, did you ever think I'd knit a sweater?
Gma: Well…no…
Me: Me neither!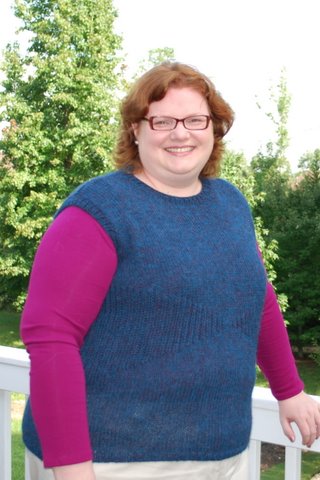 Overall, I'm very pleased with the sweater. I made some dumb mistakes along the way that involved frogging back a couple of times. When I blocked the sweater I was concerned that it was much larger than the pattern measurements – but when it was all seamed together & I tried it on I didn't end up with a tunic sweater like I thought I might. My sweater isn't nearly as scoop necked as the one in the pattern picture. And when I went to pick up stitches on the neck & armbands I couldn't get near the number of stitches picked up as the pattern indicated. I could rip back the bands and try again but I would rather move forward with my knitting.
When I first picked out this pattern, I envisioned wearing a white blouse underneath. Now that it is finished, it's obvious that it is more of a 'knit top' sweater. Over the weekend I found a berry colored long sleeved t-shirt that brings out the berry thread in the "blueberry mix" of the yarn.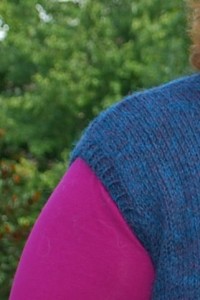 The Details: Sleeveless Top from Knit Simple, Fall 2007 (rav link)
Yarn: Berreco Ultra Alpaca in Blueberry Mix – less than 5 skeins
Needles: Addis size 8 & 9
Started: September 2007; Finished: September 7, 2008
Modificiations: Fewer picked up stitches for the arm bands and neck band
And now, the weather here in Chicago has had a hint of the fall- before long this sweater will indeed be part of my wardrobe.
What a journey of stitches I have been on since the hat class several years ago where I commented "it's not like I'll ever make a sweater." This was an enjoyable project and it was exciting to think about making an actual piece of clothing instead of just an accessory. Since I cast on for the sweater I have indeed queued a couple of other sweaters to make. I have several holiday knitting projects to get through in the coming weeks; however, I anticipate that it won't be long until I have another sweater on the needles. Thanks to all of you for your words of encouragement on the journey of the first sweater – I'm glad to be finished!